Hi! My name is Ashley, I'm a 19-year-old girl living in Revere, MA. I'll be attending Salem State College in the fall as a freshman. I live with my dad and cat, Cookie in a three room apartment above my grandmother. It's extremely tiny, but I make the best of it. (Mostly because my bedroom is the biggest room in the apartment!) Enjoy!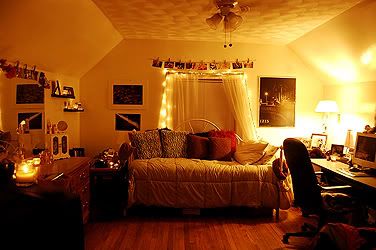 Warning NOT Dial-up Safe.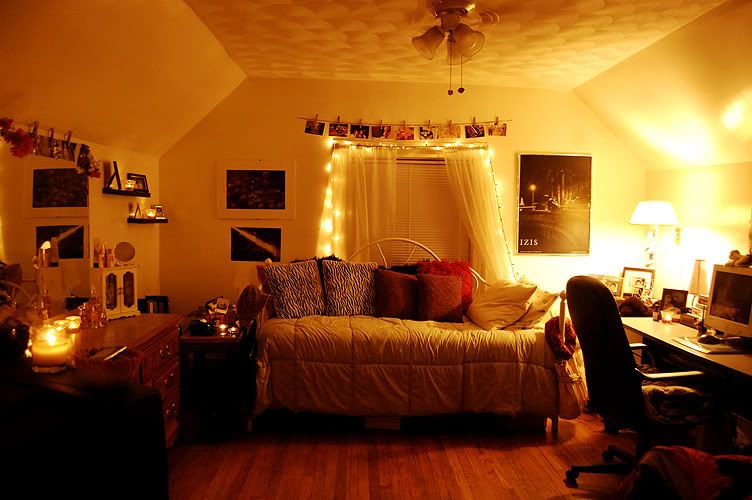 What you see when you first walk in, I absolutely despise my white walls, but I'm not allowed to paint. :(
If you look to the left in my doorway this is what you see, my desk, closet, bulletin board, etc.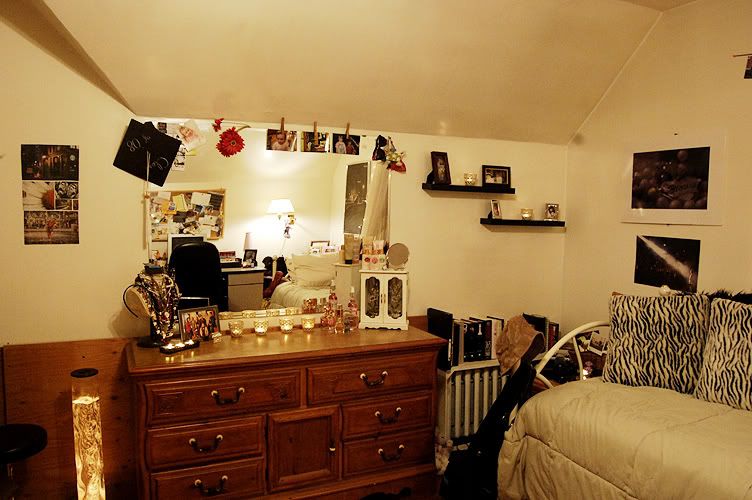 And if you look to the right you see my dresser, tv, etc.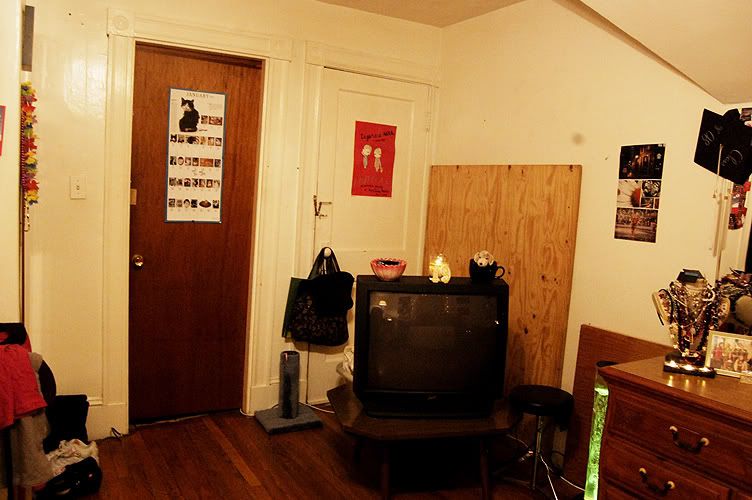 I also have unfortunate eyesores in my room, two HUGE pieces of plywood that I'm not allowed to touch. They have to be cut in pieces to be brought down stairs. Did I mention I live on the third floor. Yeah...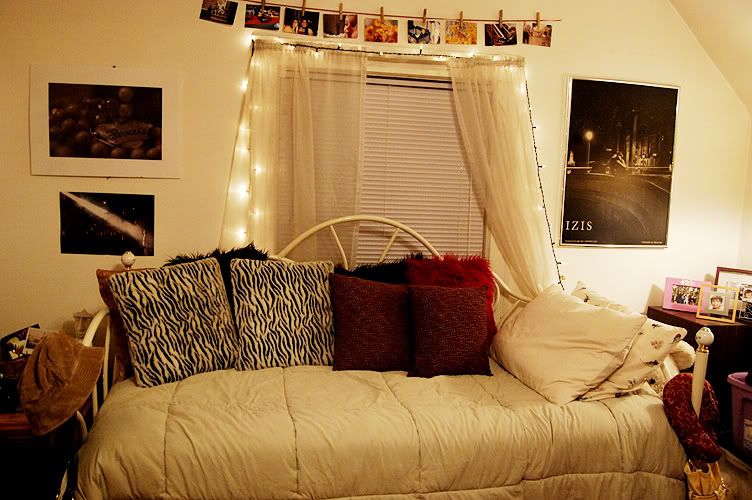 My bed <3!!! It doesn't look like it, but it is the most comfortable bed, ever. My green comforter is a real down comforter and keeps me extremely warm. I also have an obsession with pillows, all of the pillows on my bed don't match because they are all at least 6 years old and I just can't seem to part with them. <3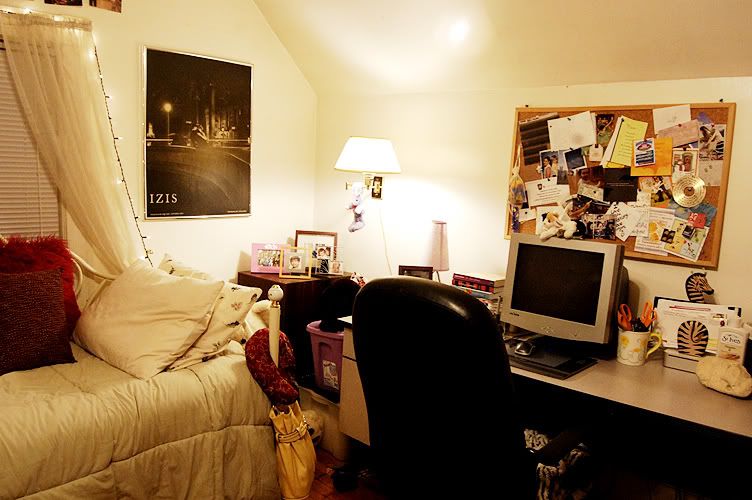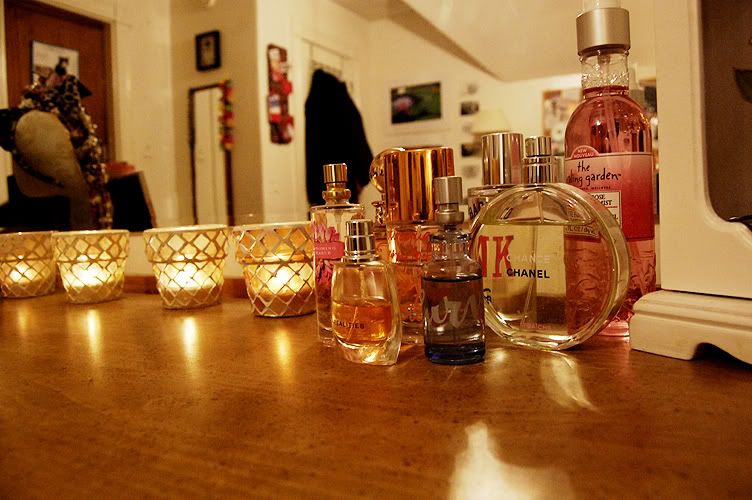 The top of my dresser. Those candle votives were a dollar a piece at the dollar tree. Amazing find if I do say so myself.
The top of my jewelery box which I have had since I was 9, yet another thing I can't part with. As you can see on one of the corners it's really had better days. Also that huge ring is the ring that my friend and I exchanged on our "wedding" day when we decided that men were stupid and that we were better off with each other. Mind you we did this in the middle of rush hour at Mcdonalds while we were supposed to be working. But it's been two years and we haven't let each other down since! <3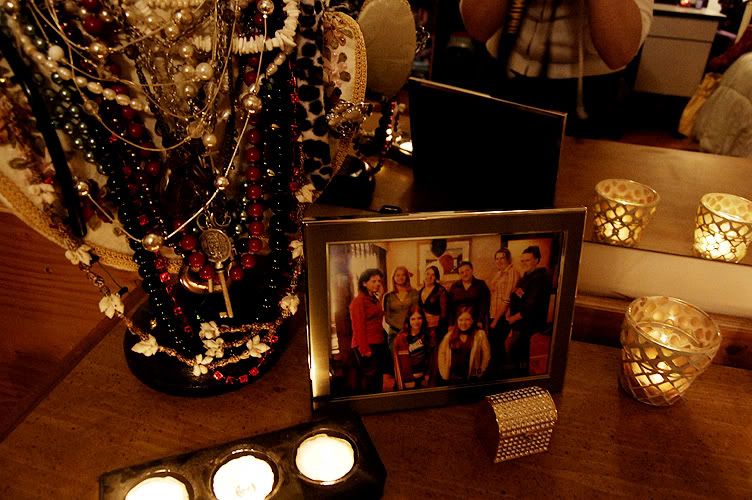 A picture from my 16th party that I just recently took out. Oh memories.
This is the bodice that I stick my necklaces on, they are horribly tangled but I think it looks pretty. Unfortunately this picture does not do it justice. But I did purchase it for $5 at TJ Maxx about four years ago. And the picture on the right is a make-shift poster I made with pictures from One Night in Boston and various Photography magazines. I absolutely LOVE photography. I'm going to school for it in the fall and I love looking through old photos, that's why they are EVERYWHERE in my room.
The next few pictures are of the various things that hang from my huge mirror behind my dresser. Grad Cap!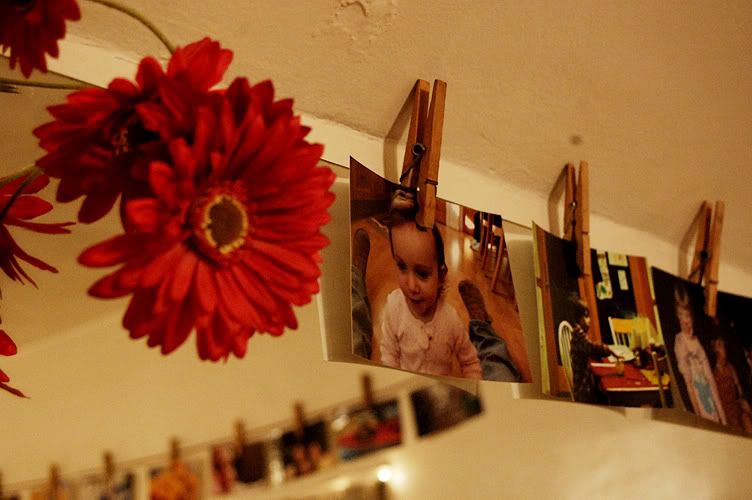 I went off on the clothespin picture idea and put my own spin on it.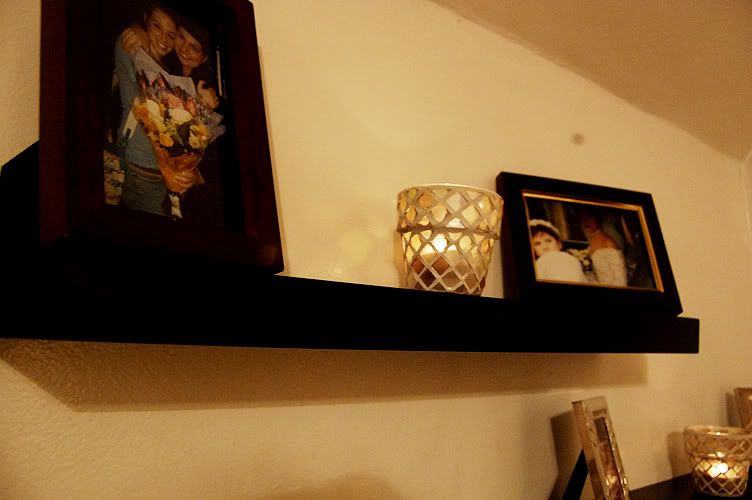 My black $10 shelves. Just another place to put my photos!
My radiator and where I keep all my books/journals. I wish I had a bookcase. :(
The table next to my radiator, my scarf in the making, cute picture holder, my Nikon FA! candles and the best Christmas present I got this year. I don't know why I was so drawn to this statue (?) but I think it's absolutely breathtaking. Also those puppies in the picture are my own. I miss them so much! (they live with my mother in NH)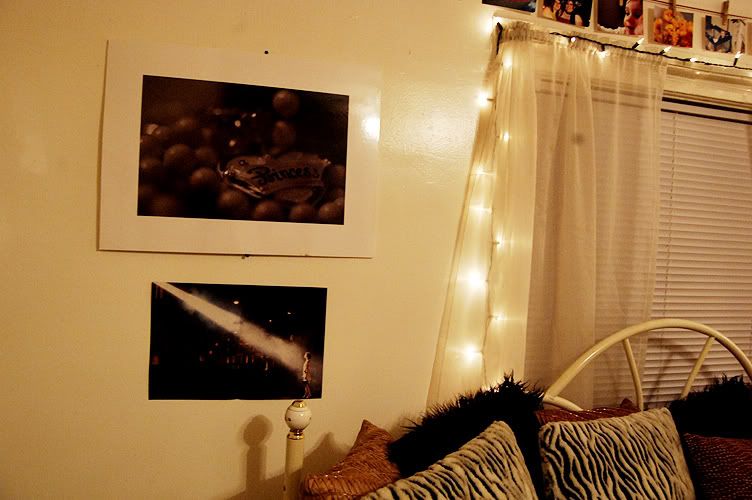 Two Christmases ago my dad gave me five blow up prints of photographs I had taken in the past. I had to make make-shift holders because they don't have photo hangers on the back of them. So yes, it is being held up with thumbtacks. The picture below it is taken by Peter Lindbergh that I ripped out of a magazine.
The most recent addition to my room :) I adore this too, A mixture of photographs I've taken and old ones of me and my brother.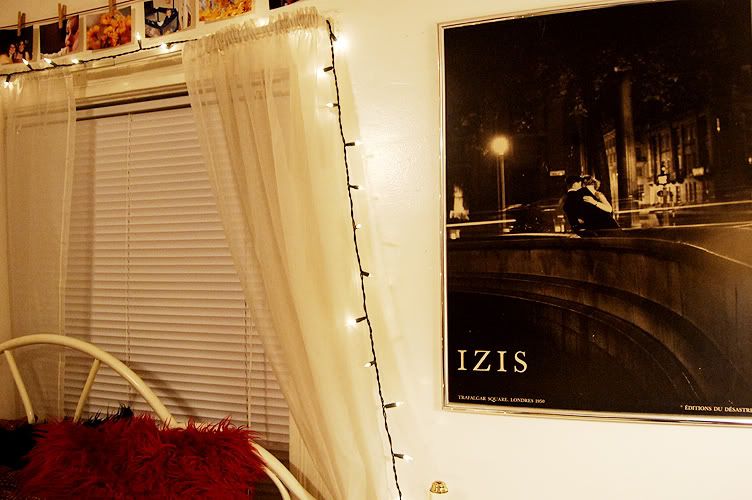 This print is my absolute favorite photograph, ever. It hung in my aunt's house for years and every time I would go over I would just admire it. One day she was cleaning house and was getting rid of it, I had to have it, so she gave it to me. It has so many dings from over the years but it's such an amazing photograph. It's one of my prized possessions.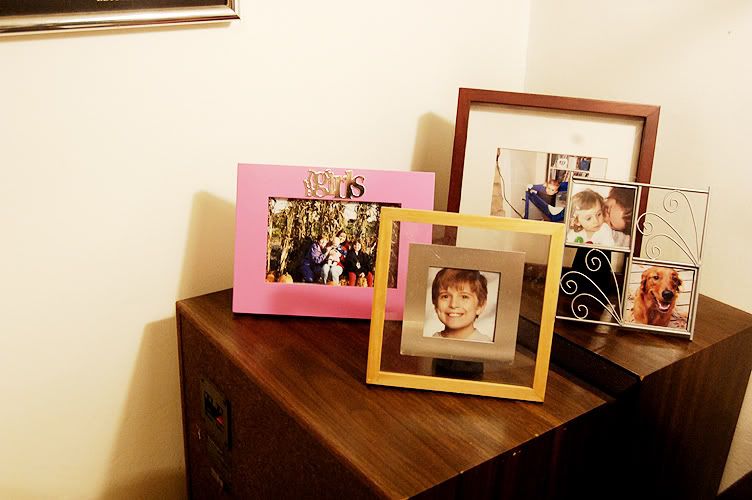 Another shrine to my photos. They are sitting on two huge speakers that never get any use.
My desk! I spend hours upon hours here, it rarely ever looks like this. It's usually buried in about 5" of crap.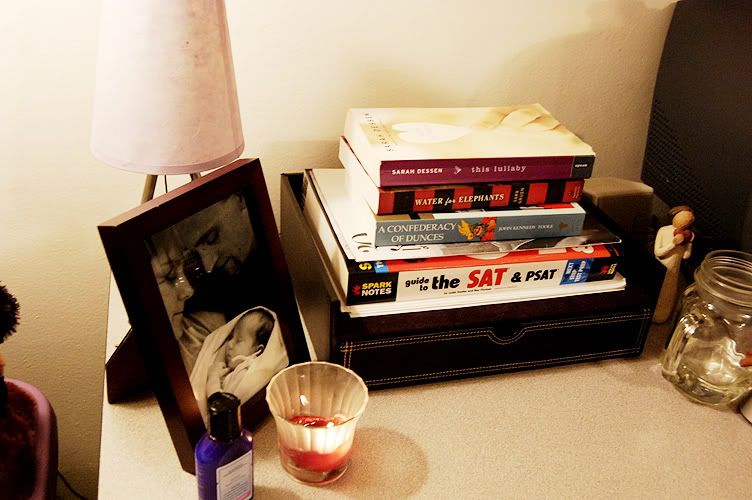 On the left of my desk, a photograph I took of my aunt her husband and my cousin emma when she was a couple of weeks old. Also my attempt at paper organization, SAT guide book, and the books I'm reading. (A Confederacy of Dunces is a MUST read if you haven't already, this is my 4 time reading it and it's laugh out loud (literally) funny)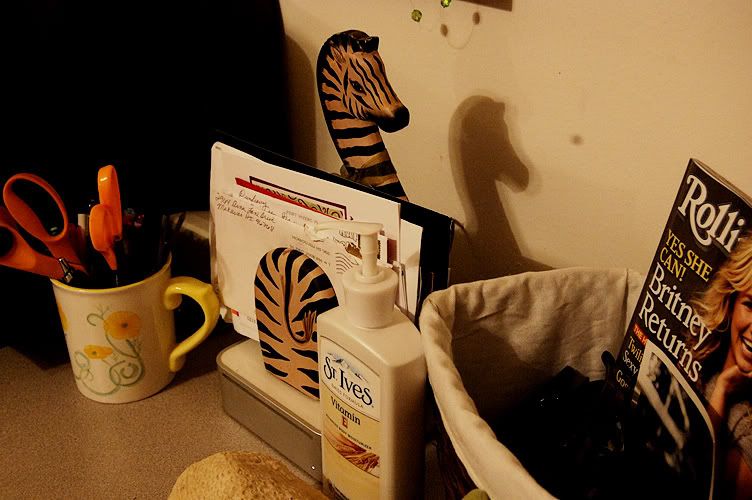 The right side of my desk. The zebra letter holder is a staple from my mother's younger years and I used to love it, she tried to sell it at our yard sale a couple of years back but I stole it before anyone noticed. It's made from wood and also has seen better days but I adore it.
Bebe, he lives on my monitor. :) Also that's a flower made out of corn husk. My grandfather made it for me.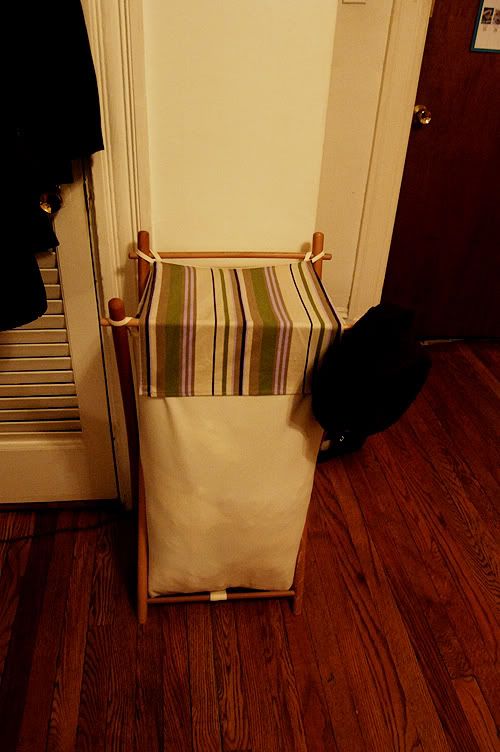 I just really really love this hamper. I don't know why.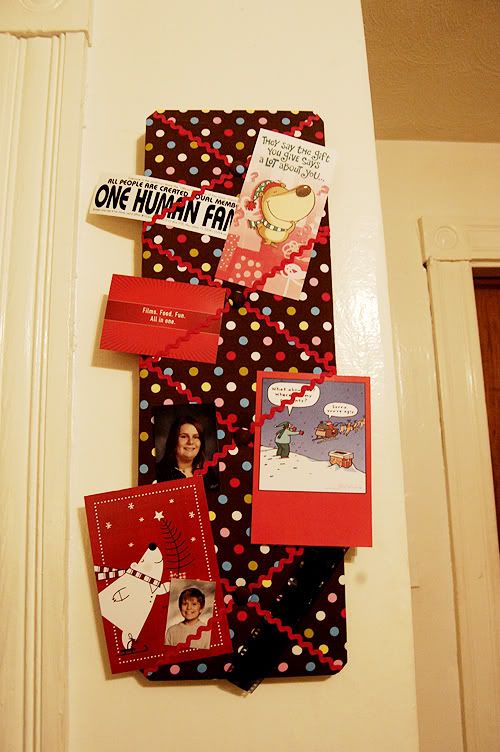 My attempt at adding color to my room. Hmm.
The closet. I wish I was more organized, but it's never going to happen. And besides this works for me.
My sad excuse for a DVD, CD, and shot glass collection. Oh and my towels also reside here.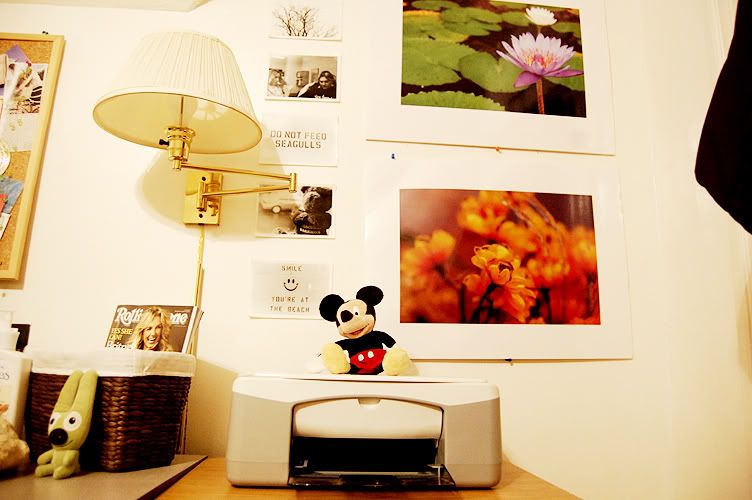 More prints my dad got made for me. Mickey Mouse, my printer that ran out of ink a year ago, and the first photographs I ever made in Photo 1 freshman year of high school. When you spend 25 minutes pouring, draining, and agitation your film in a dark room for the first time, you'll want to show those off for a while.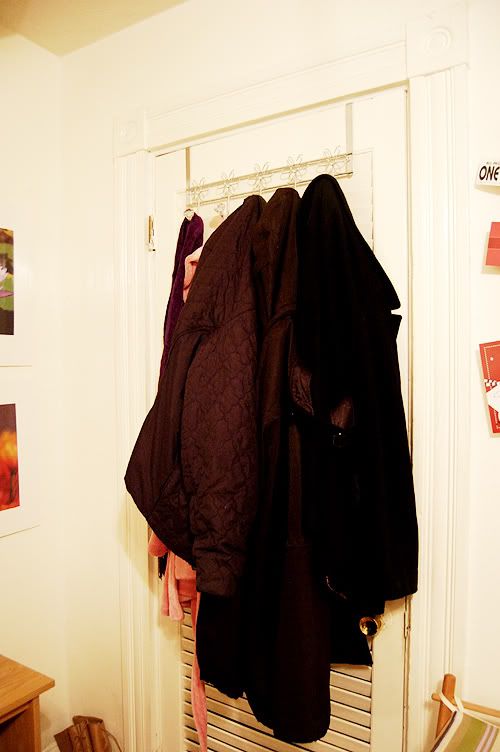 My coat hanger. Nothing special.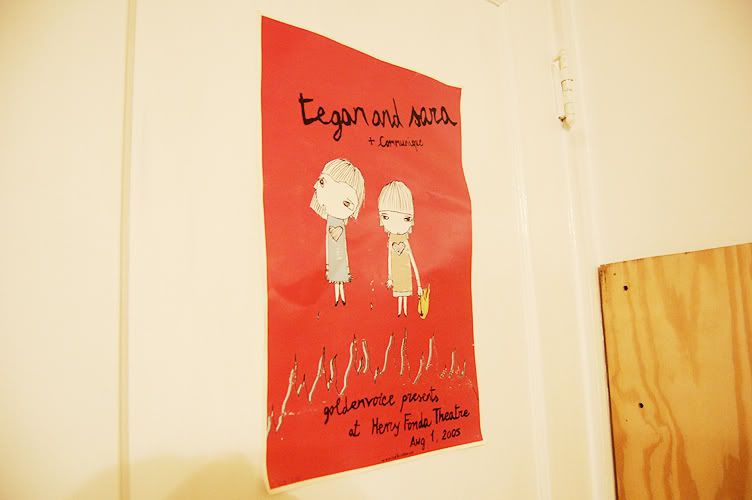 My tegan and sara poster! I just recently found this in my closet (maybe I should reconsider organizing it a little more.) but I just had to show it off. :D
Where I keep my keys, bangles, and cell phone. Basically anything in my pockets gets dumped here.
Every year I display my birthday candles in some form in my room.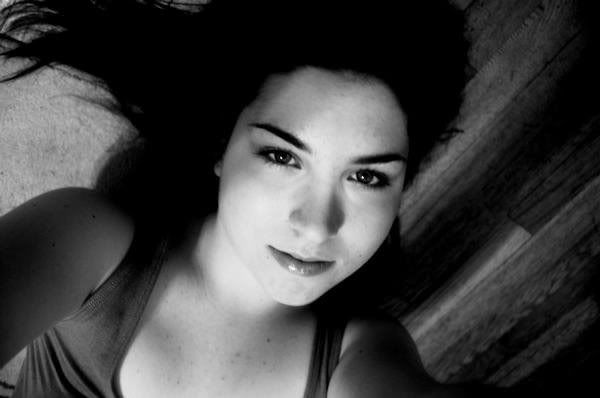 And that's me, sorry for the myspace-whore picture, it's the first one I found. So that's it, sorry for the huge amount of pictures. I can overachieve in the worst possible way. But I hoped you liked looking at my room. :)