Background:
I bought this Sundew at Lowes a month ago hoping to try something new & help a knat problem.
Conditions:
Distilled Water used & kept wet when I check on it...not on typical "watering day" schedule like my other plants. Kept on windowsill during day & covered with plastic "cover" during some cooler nights, but uncovered next morning.
Questions:
How do I know when to "repot" this plant? I read that
"These plants are in a continuous stage of growth with old growth dying and turning black as new appears"
, so it always looks "happy" but I don't know when it's time for a change. Will keeping in original "pot" help create flowers? (I read spring & summer are their seasons) In my opinion, this plant has caught more than what I ever expected it too...could it be eating
too much
? Is there such a thing as too much?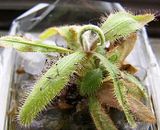 PS: You are always welcome to visit
my garden site
.