Hello. My name is Sara, and I'm 16. I live in Malaysia, and this is
my room
:)
The east and north side of my bedroom, and the view you get from the door. My room's kinda plain, but I make up for it in the details. (well, I try, lol.) My room's also really square, so I have four almost equal walls. Two of my walls are in different shades of blue ( including my ceiling; my parents didn't like that idea very much) and the other two are light purple.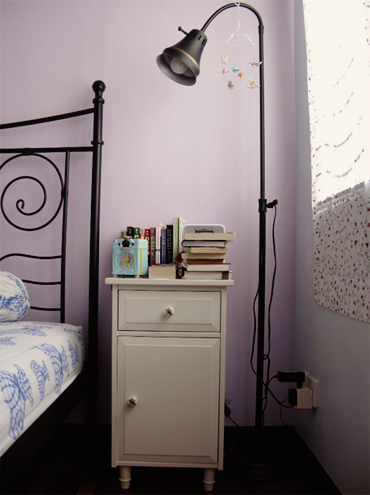 My side table and lamp. I call that my book tower, haha. I like the lamp 'cause it matches my bedframe, and it used to belong to my parents.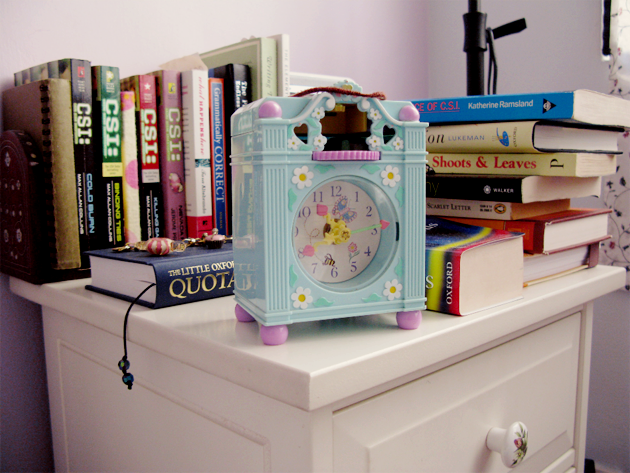 I only arrange my favourite books on my side table because there isn't enough space for every single one of my books (I have a library shelf outside my room). As you can see, I like CSI. A lot. Oh, and I love my clock! I got it trifting in Melbourne; it's a Polly Pocket clock and it reminds me of my childhood because I used to collect them almost obsessively.
I like my knobs too - they're porcelain with a tiny flower and leaves.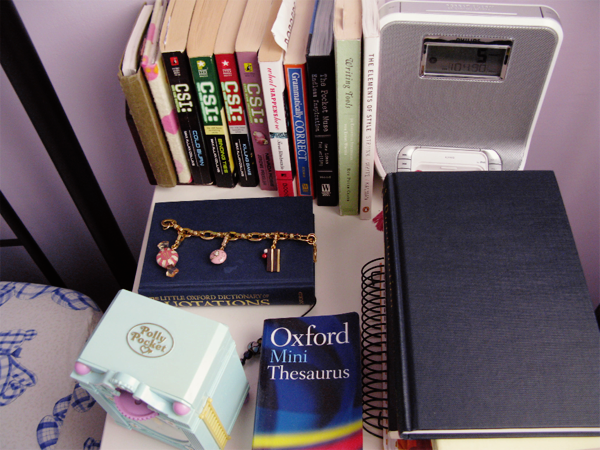 Top shot of the table. The bracelet is my charm braclet I got for my 15th and 16th birthday present from my parents. The black book on the very top is the book I'm currently reading - it's on punctuation. I like writing, which explains my mini thesaurus. The only electronic thing on my table is my radio/iPod docker.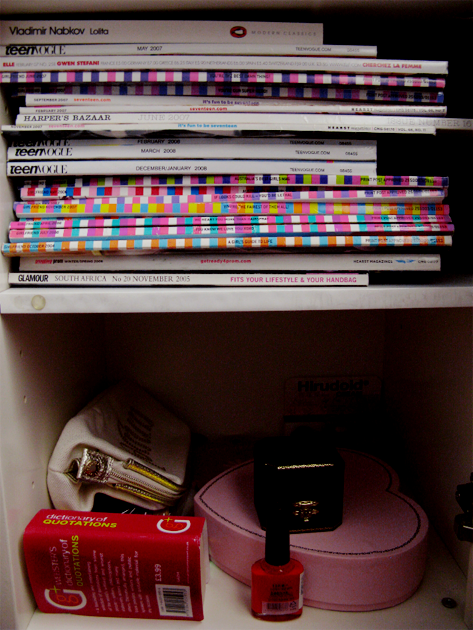 Inside the bottom bit of my side table. Magazines and books and nail polish and my charm bracelet box.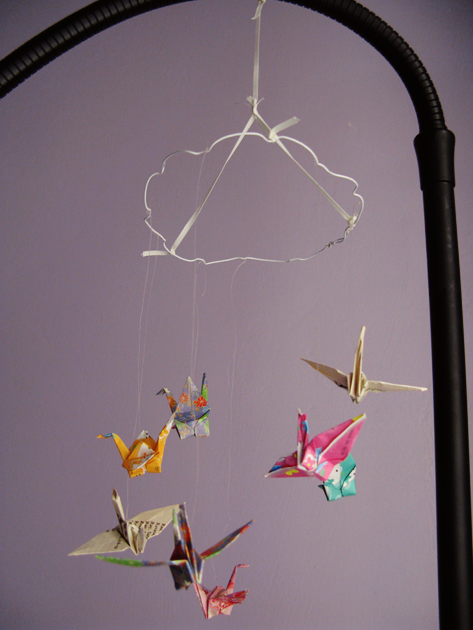 This is my paper crane mobile that I made ( with loads of help from my mum :D ). I folded the paper cranes and she helped tie them up for me. I love origami and it's quickly becoming an obsession of mine. I love that it's there because when the fan's turned on, it turns with the wind and the birds look like they're really flying.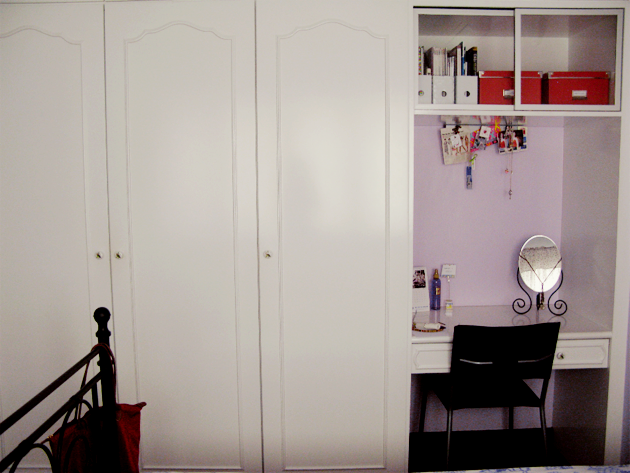 The west side of
my room
- my wardrobe and vanity area. The only 'happening' bit of this side of the room is the top right bit. I designed my wardrobe quite a number of years ago (I think I was 11) and I was aiming for anold English theme. I'm glad I'm not tired of the way it looks, and that I didn't do choose something incredibly gaudy at 11.
What's inside the glass cupboard above my vanity. Just more magazines and some books. I have stationery in one of the boxes and electronic appliances (epilator, hairdryer!) in the other.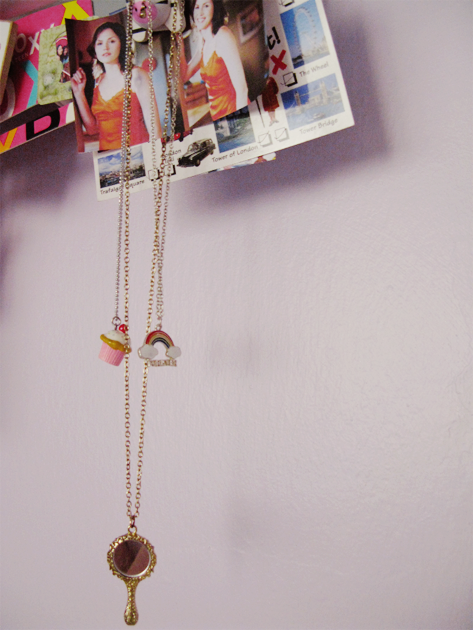 The light above my vanity is hidden behind a magnetic strip, so I have magnets and pictures (postcards and of my idol, Jorja Fox) attached. I hang a few of my necklaces on a zebra magnet up there because I like dangly things :)
This is next to my wardrobe on the west wall. Just a magnetic board with a few of my snapshots (how I envy all you guys with polaroids!) and my favourite quote from Alice in Wonderland. My Supersampler is relatively new, so I'm waiting to develop my other roll of film to replace the quote poster thing.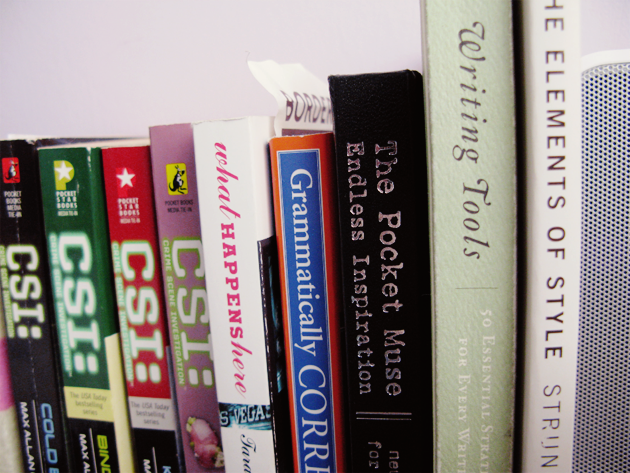 In case anyone's interested in my favourite books.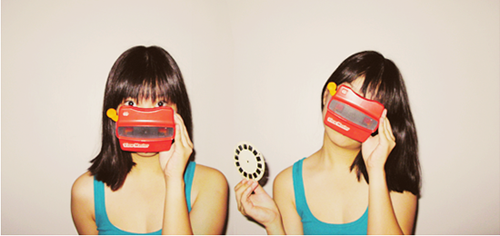 Me (and my south wall. It's completely empty, and it comes really useful for photoshoots, haha.)
Thanks for looking! Cross posted.