Remember that flat of impatiens that stranger gave me because he thought I was so dedicated planting in the 90+ degree weather? Well, the petunias and marigolds I planted that day did not like the shocking hot weather and lost their flowers (except for one petunia, which kept one flower.) The plants are doing O.K. and I expect them to produce more flowers sooner or later. But I was NOT going to plant the impatiens in the heat. So, at first it was too hot to plant them, and then it was too wet to plant them. Now it is still pretty hot but not in the 90s. It was today or never.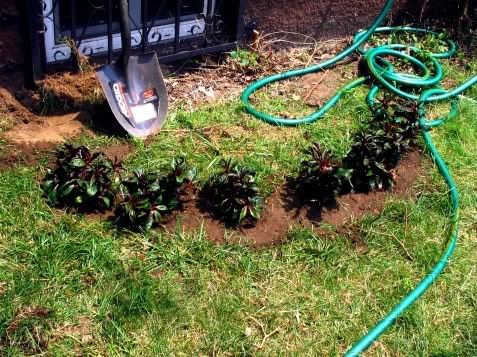 Also, one pepper plant has dropped a few, so I harvested it. That was the one called Early Chili, I think. The other peppers are doing well making flowers and growing baby peppers. The 'maters are doing exponentially well. Can you see all the tomatoes growing in the foilage?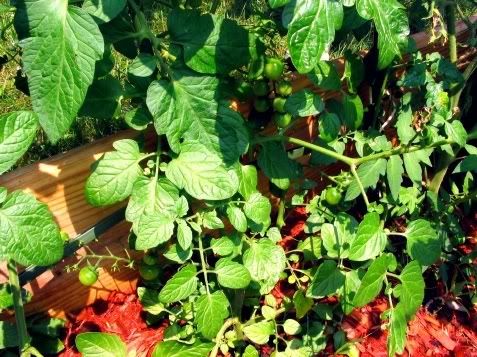 That's only a small portion. If all the tomatoes currently growing actually make it into eatable ones, I'm not sure what I'm gonna do with them all. Can you grill them? Cuz that'll make hubby very, very happy. They may be doing too well. Here's Justin tying off the top of them.
They have almost outgrown their supports. They have sent branches outside the bed and are producing tomatoes on those outshoots also. Should I trim those? The Boy thinks I should but after last years fiasco, I have a hard time
intentionally
destroying perfectly good fruit. P.S. The Boy is my son. He's not so much a boy anymore. Doesn't matter, he could be 50 years old and he'd still be The Boy to me.