I have folks on my individual journal that are.. comfortable enough with me (and I with them) to take me to task for journaling shortcomings, AND I have folks on my individual journal who are willing to impart knowledge, AND I have folks that take misunderstandings gracefully, even when I caused them. This entry is in response to all three. Because I am striving for clarity.. this is going to be long and wordy… sorry about that! My original post sans photos was: (skip the first block of italics if you remember it)
I grow confederate roses (and everything else.. as you loyal folks know *grin*) and had to move one of the two I planted in the side yard because of size. They die completely back in the winter (mallow family, related to both hibiscus and cotton, that I also grow) I moved one of them to the front "parking strip" (we don't PARK there in this area of the country.. but be that as it may, the area in front of the house, by the road is a mixed border extraordinaire) Two years ago I had a start in the rose garden (the original site of the two confederate roses, with one remaining) that I dug up and planted in the back fence garden. It did not bloom that first year. This year is the first for blooms. Normally the confederate roses rise from nothing (I cut them down to the ground in the winter) to 18 to 20 feet by late fall when they bloom. Last week I was walking the gardens and noticed "WHITE" out there.. Confederate rose is a ball of a bud, a ball of a bloom (softball sized and PACKED with petals) and a ball of a seed head. I grow native hibiscus in the rose garden, that has a cone shaped bud, and seed pod, AND it blooms in the summer, not the fall, and has only five petals like this thing that is on the bush that looks and grows like a confederate rose. IS IT POSSIBLE THAT MY CONFEDERATE ROSE AND NATIVE HIBISCUS HAVE CROSS POLLINATED? The native hibiscus is a yellow flower with a maroon center. The "normal" confederate rose starts out white and turns pink as the days wear on (like cotton). This BUSH is strait up confederate rose, but the bloom is hibiscus. The leaves are so different on the two plants.. and these leaves are confederate rose. Is it possible? If you look at the buds behind this flower, you see elongated, but it is NOT the extended elongated of the native hibiscus, and there are no hair like spines or thorns like the native hibiscus.. but that flower form is strait up hibiscus! And two months early too. *EDIT* while cruising around the web this morning, I found mention of a single flowered "version" that is also called a confederate rose, or cotton mallow - so my "start" may have reverted to an earlier (this is an assumption on my part - don't know which came first) form? Any confirmation on that theory?
END OF ORIGINAL ENTRY There is a man on my garden journal that spent his career in plant "breeding" (among other things) who commented on this entry thusly:
I've worked mostly with Hibiscus Rosa-Sinensis (years ago, at the Los Angeles County Arbroetum) taking care of the greenhouse Ross Gast was using for his species collection & hibridizing), but would say that, yes, this plant easily could be a seedling of a cross between H. Mutabilis and some other species. On the other hand, I'd expect such a seedling to be a much smaller plant. From your photo, it appears that only one flower is out, or one or two branches are blooming, so there's also a possibility that it's a mutation (or, if your Confederate Rose cultivar was a hybrid, a reversion to some ancestral genetic composition). As you'll have noticed, I'm just Speculating here. At least you'll have something else to look forward to next year.
AND
Oh, and I forgot to mention -- or, more likely, just didn't remember it at the time -- that some species of Hibiscus, when crossed with other species, seem to keep their flower characteristics and their leaf/growth habit characteristics distinct. That is, a batch of hyibrid seedlings can have the flowers typical of one parent and the leaves of the other. (Just to confuse things, that isn't dependably the case, and in some crosses one parent will be dominant in both respects, or there'll be a broad spectrum of differences in the seedlings.)
Which is all great fun.. seriously. I have a GREAT fondness for the foibles of genetics dating from the 1980s. But the REST of my layman's research: Hibiscus Mutabilis is the confederate rose that I planted originally. It is the largest of the Hibiscus family – it grows from nothing to 18 to 20 feet in a season… here. Hibiscus diversifolius is what we call native and/or swamp hibiscus here, and I planted that nearby in the rose garden. It is a "normal sized" hibiscus, grows to about 4 feet tall here, and it self seeds and spreads all over here, so I don't have to do anything with it.. it pops up wherever if feels like yearly. Those are the two plants I thought might have cross bred to make this new thing I transplanted out back, but I no longer speculate in that direction, and here is why: 1. Pictures of my native hibiscus this year: Flower: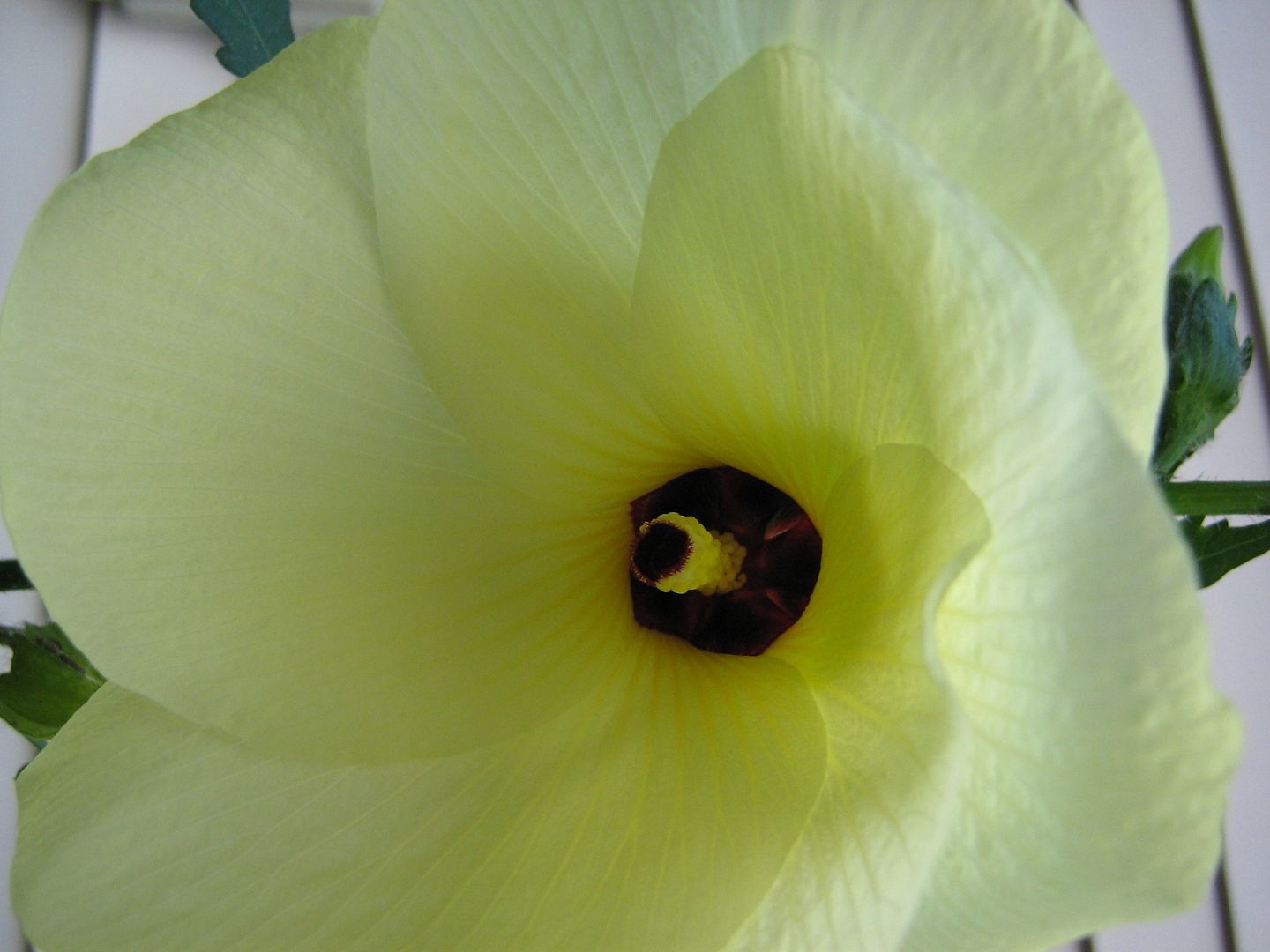 Seed pod from yesterday and the leaf form: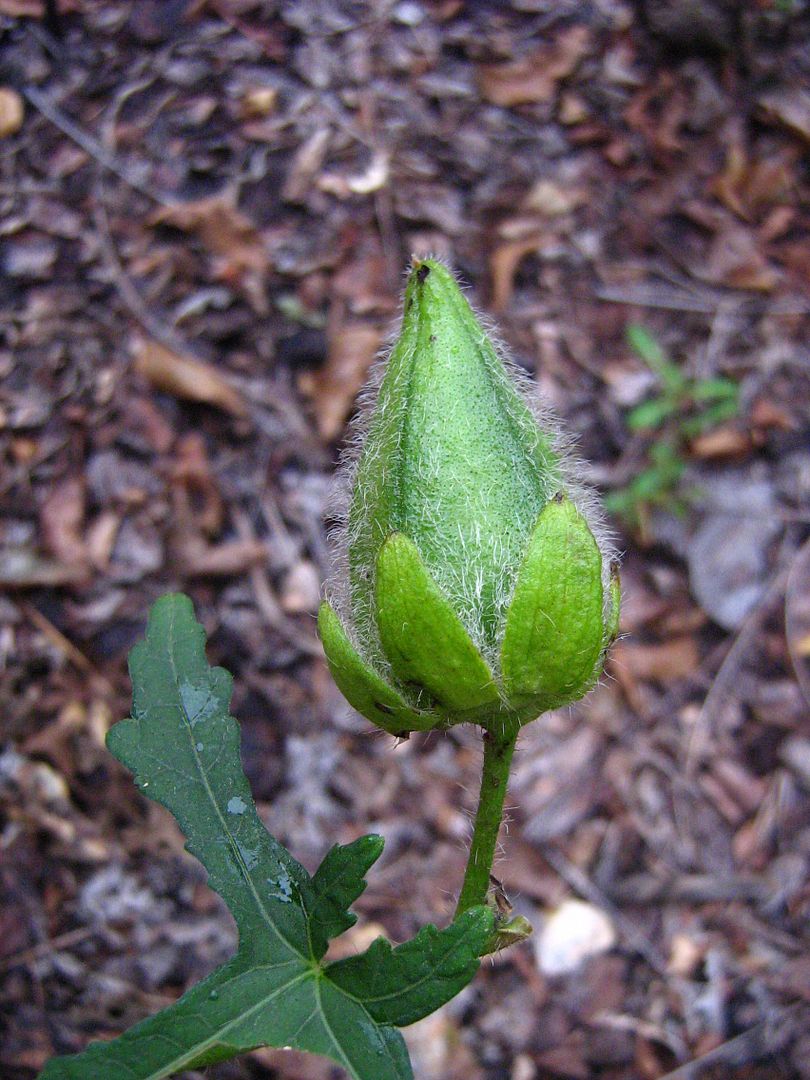 You can easily see the prickles in the seed pod photo. 2. Pictures of a confederate rose from past years: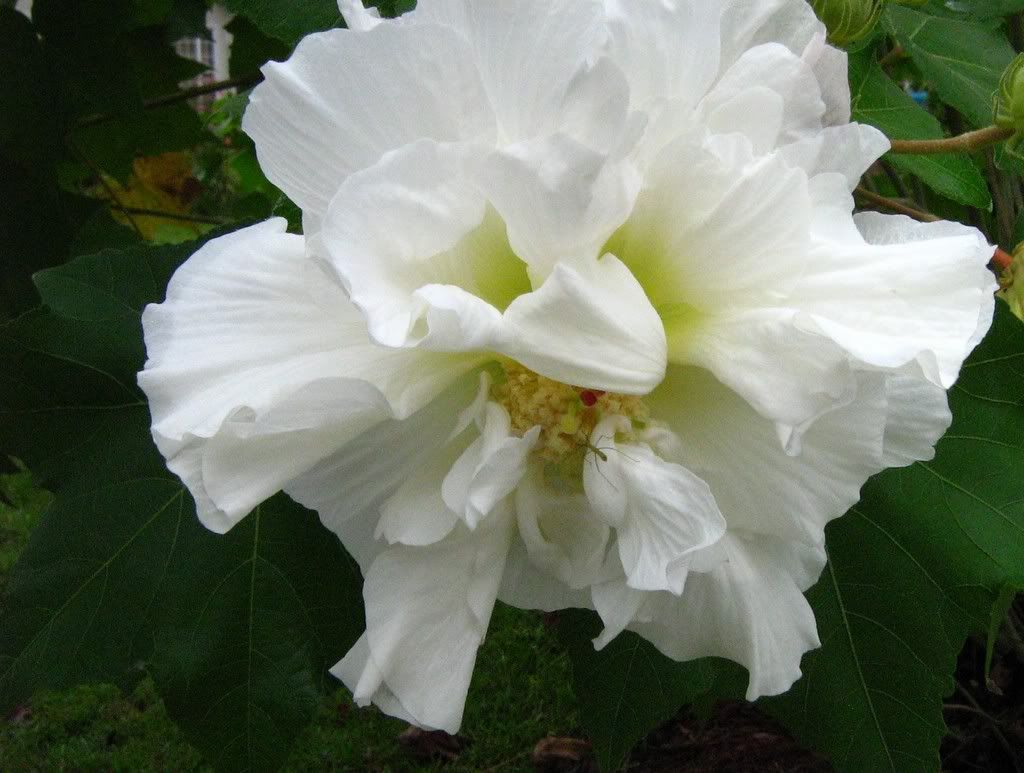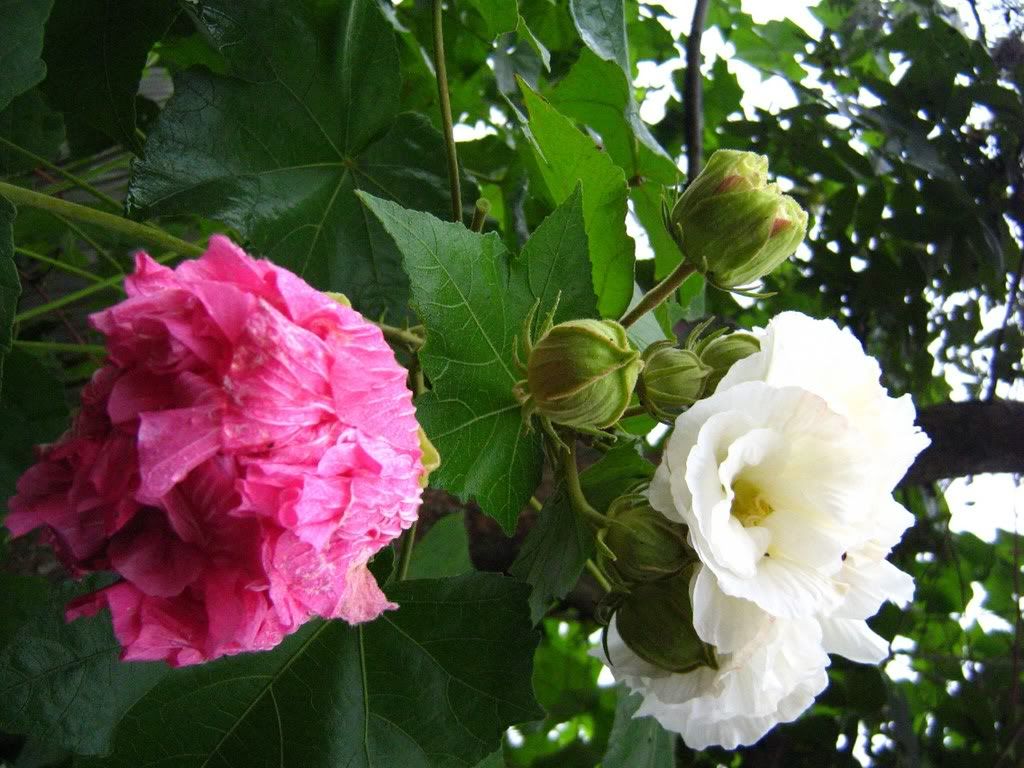 You can see the bud form and shape on that last one, and the flowers are opening white, and fading to pink. Now for the thing that is out back: I finally "caught" a flower in action; to see what color direction it was fading in.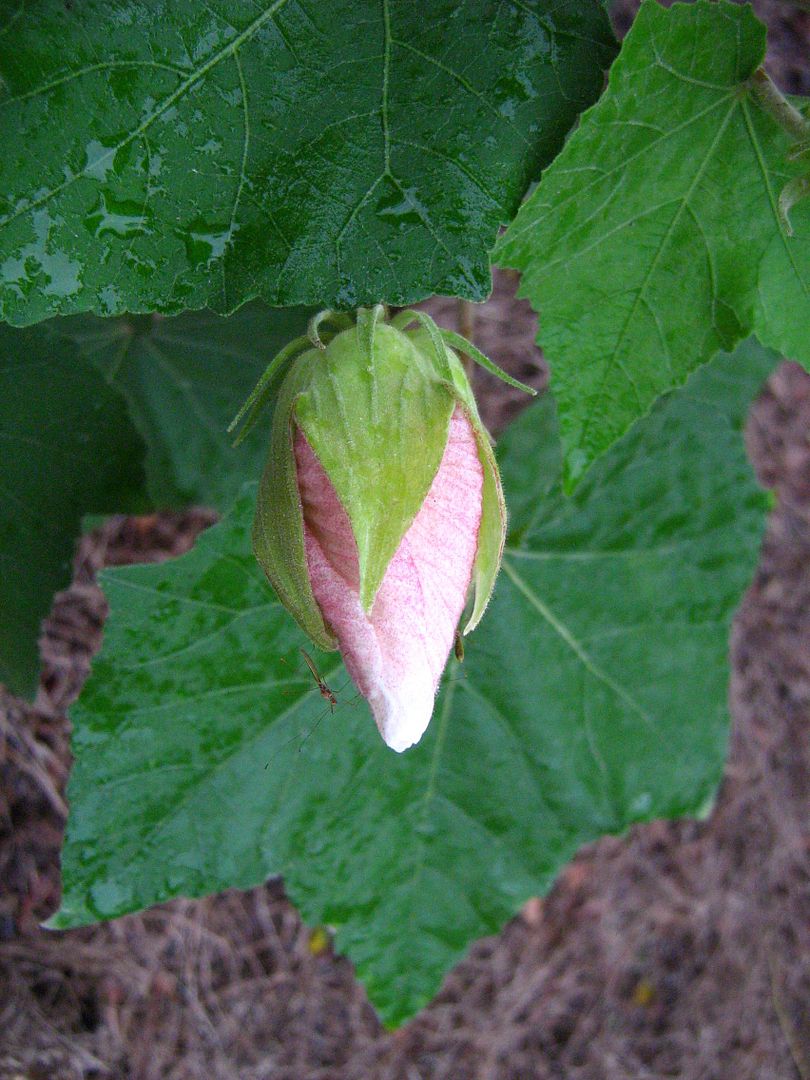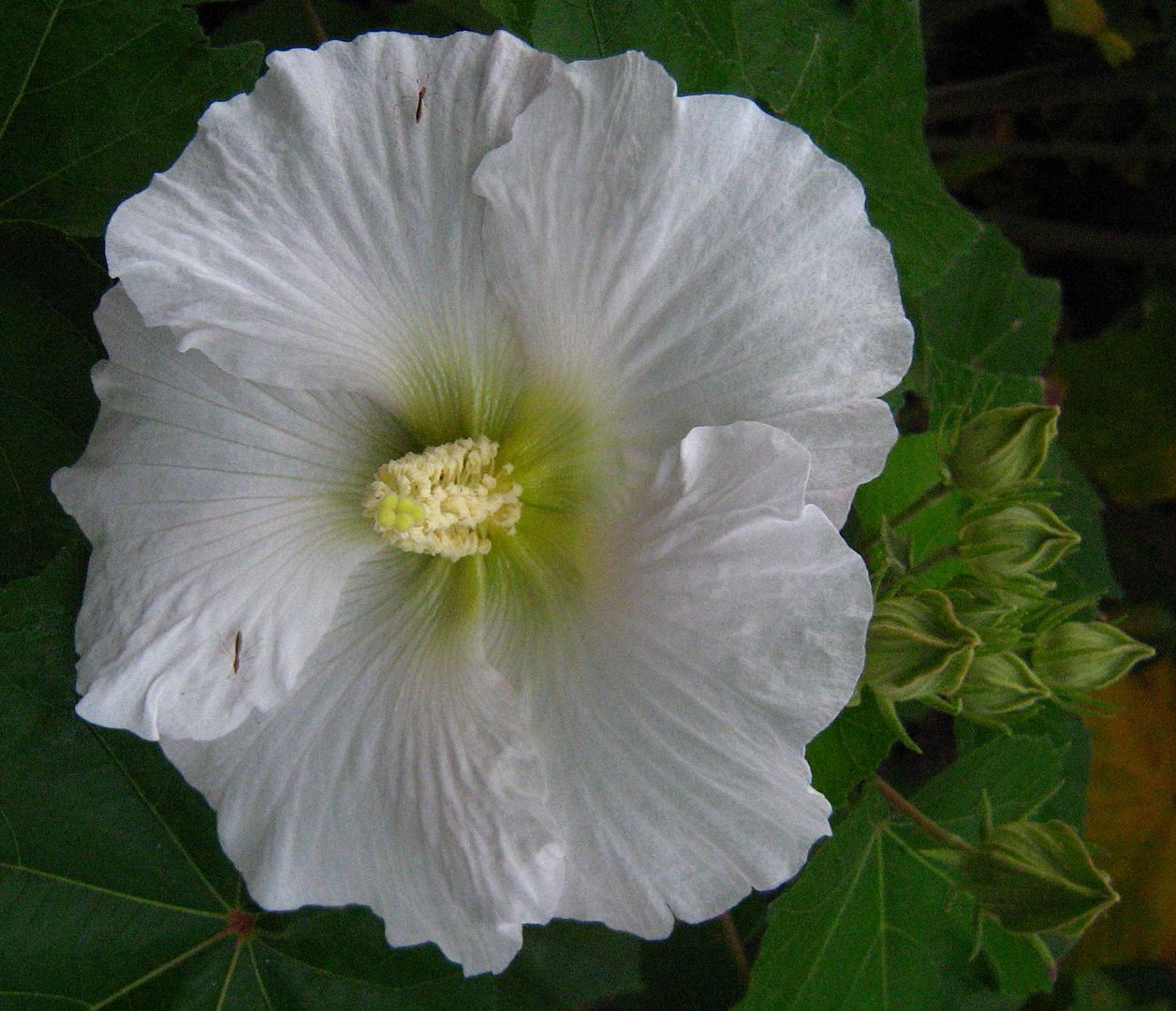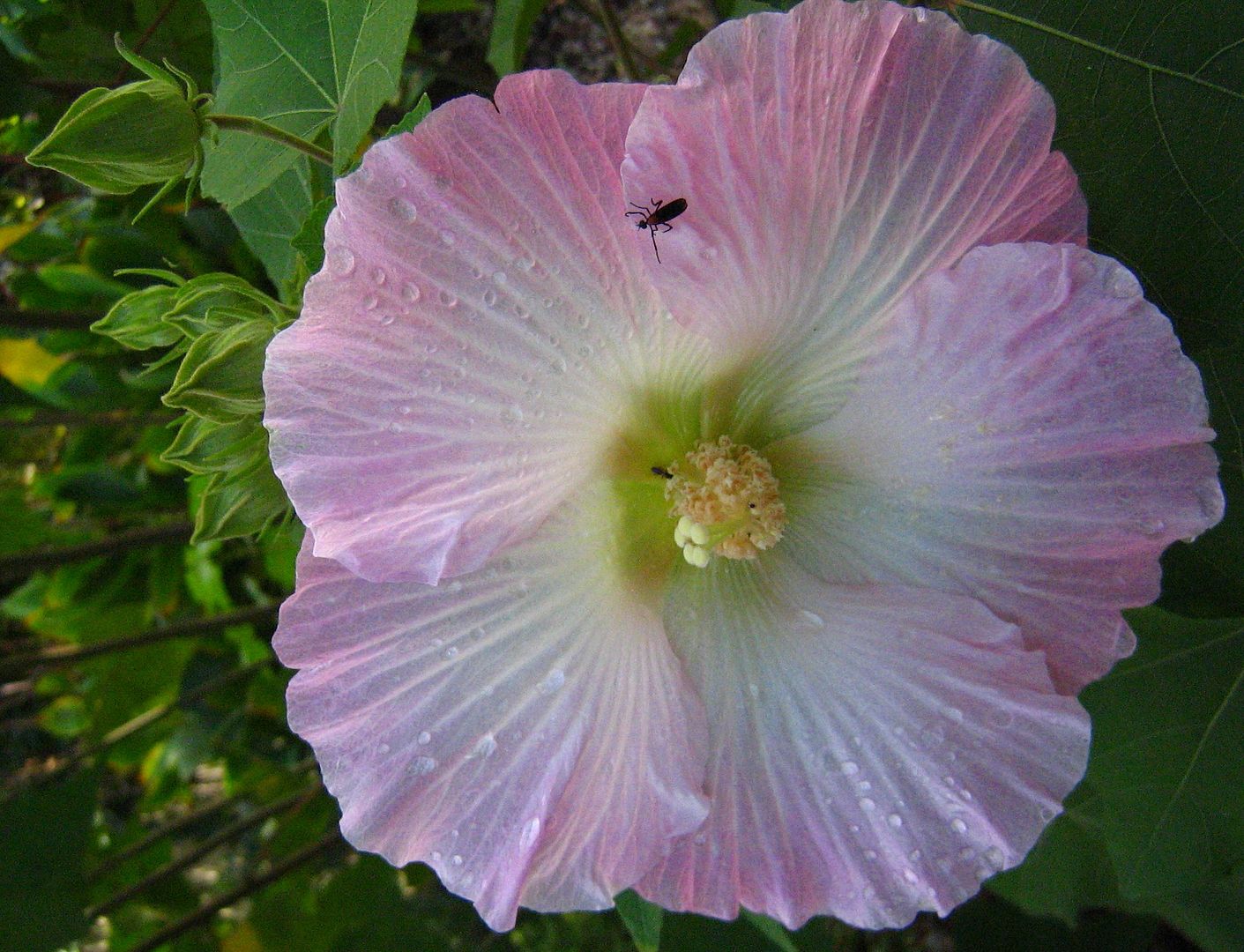 And they are opening all over the bush the same, so it is not one branch. I have photos of that, but they are hard to see, as I am on the ground taking pictures of something twelve feet in the air.
So here is my speculation given the additional evidence; because of the similarity in form of the buds on the confederate rose (H. mutabilis) and the new plant, but the difference in shape of those buds, and because both plants open white and fade to pink, and because the size and shape of the plant and leaf are the same in those two plants, and the size and shape of bush and leaf are so different between the native hibiscus (H. diversifolius) and the new plant, I think this is a reversion to a simpler form of flower of H. mutabilis instead of a cross breeding between two different plants. The only thing I cannot account for in this particular speculation is the timing of the bloom. My "regular" confederate roses are just now starting to set buds. This new thing is blooming now – so I could be speculating incorrectly.
*grin* Clear(er)?