It took me a little more than a year and now I'm almost done with the decorating in my room. My only gripes are that it's too cramped in there, that the only window faces the East, resulting to long, dark shadows in
my room
from 10 a.m. onwards and rays shining
in
your eyes instead of flowing around the room (like in the West Rooms), and that sometimes I can imagine little (benign, I hope) creatures hiding in the corners. But I'm pretty satisfied with everything else.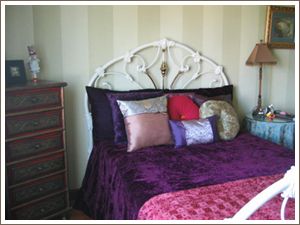 Secret Drawers and Vampire Bed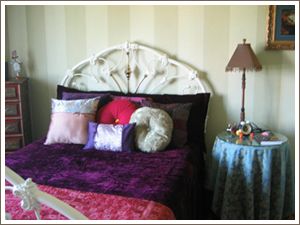 Vampire Bed and Victorian Table
I was going for the
Moulin Rouge
Elephant Room theme here but with relatively less knickknacks and more easy-on-the-eye contrasting colors. Walls were painted with alternating light and dark fat green stripes. Dominant furniture colors are dark brown, deep purple, and rose.
Secret Drawers
: Bought on sale at Home and Beyond. Reminiscent of Bollywood decadence, the wood was painted red and embellished with gold wires and small green stones. I used it to store my tarot cards and other odds and ends that are better off untouched by people other than myself.
Vampire Bed
: It would look better on a dark wood frame with no footboard but since the good woman (my mother) doesn't want me to leave this 12-year-old white bed frame to rot in the basement, I tried to incorporate it into my existing theme by putting as many colorful throw pillows on it as possible and pass the whole thing off as French whimsy. Purple velvet bed- and pillow- covers were bought at Divisoria and sewn into serviceable shapes by my fashion-inclined sister. Sequined and embroidered rose-colored day blanket on the foot of my bed was stolen by me from said sister because it would look so much better in
my room
than hers (which is like
Shabby Chic
, only cleaner and less worn out).
Victorian Table
: I salvaged this from my old room and covered it with bluish green brocade fabric which I bought from Tutuban for a very, very reasonable price. (Note: Corner between Victorian Table and Grandfather Bookshelves is still bare; I'm thinking of filling it up with some thin shelves, sculpture, or finished canvases. If people are interested, I will post a picture of it later after it's furnished.)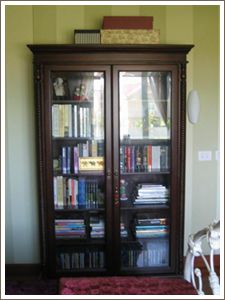 Grandfather Bookshelves
Grandfather Bookshelves
: This is one of the three custom-made furniture in
my room
(the other two are the Victorian Table and the vanity set in my walk-in closet [pictures of which are not yet available]). Makes
my room
looks way smaller than it actually is. I'm happy with the glass doors though; they prevent my books from warping, especially since this is Humidity Country.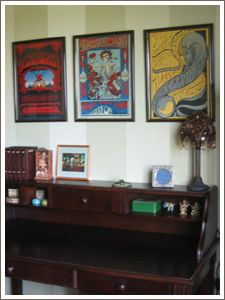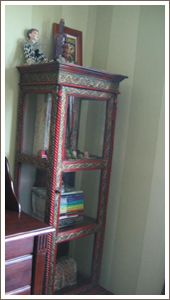 Grateful Desk and Harlequin Cabinet
Grateful Desk
: Another hand-me-down from my sister, who had decided that white furniture fit her room far better (
Shabby Chic
, remember?). I love it. The drawers roll in and out so smoothly. The three framed pictures above it are rock concert posters, one of which is for Grateful Dead, hence the name.
Harlequin Cabinet
: Also bought at Home and Beyond. Same color/embellishment as the Secret Drawers. I store my most-treasured
Sandman
graphic novel collection, intricately painted mini Victorian puppet stage, and vintage jewelry case in there. It has a lock, bless its soul.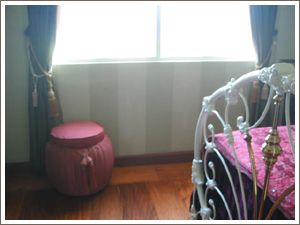 Pink Thing and East Window
Pink Thing
: Dirty cushioned stool that used to be in the living room of our city home. It has seen so many buttocks through the years that the top of it is imprinted with them.
East Window
: Strategic place for watching sunrises, moonrises, and the occasional wistful rainbow. Also nannies pushing strollers and lovers strolling hand-in-hand. Looks out to one of the village water towers and the house of our nearest neighbor. ....... Comments, questions, criticisms, and suggestions are more than welcome. :-)