I put my little seedlings out to get some sun on Monday. It was such a beautiful day I couldn't resist. Not only that but I also put the pot of rosemary out. It had just started to sprout. To save money I planted new seedlings in the old dirt from last summer. This is the same pot where I'd put the rosemary and the oregano which strangled it totally.
The coleus seedlings are doing well. They are back inside now because it got cold outside again. Here it is while out on the back porch. In the gold tray are marigold which have not come up yet. Far left is eggplant. Also I don't know if you can see the teeny tiny three little marigolds I planted in the egg tray where the coleus did not pop.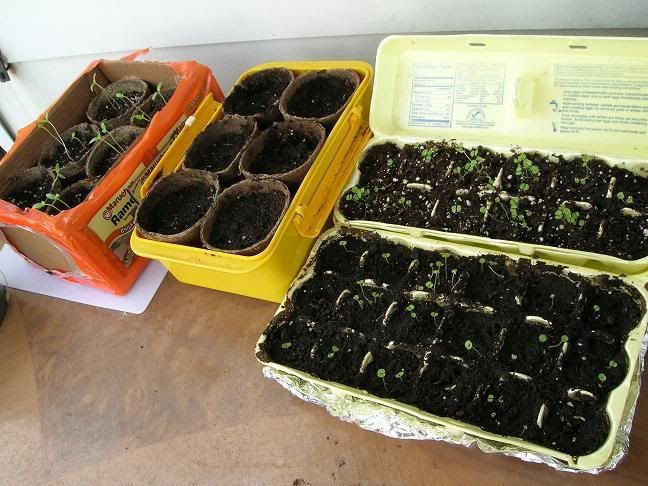 I planted the marigold mostly for taking to the cemetary on Memorial Day. I figured since I was being so energetic this year with seedlings I might as well save some money from having to buy plants at the nursery on the way there. We always bring fresh plants for the family graves.
I did not bring the rosemary back into the house as the dirt was a bit smelly, probably from being outside last year. When I purged the oregano there were some leaves and junk in there, no doubt trying to decompose. I set the pot in the mud room for now. I think it will be alright as no frost is expected.
I don't know how to edit this cut. It should say Oregano.
And here is the oregano which will not die. I cut it up and put it in a smaller pot because we don't use much oregano and I still have some in the freezer from last year.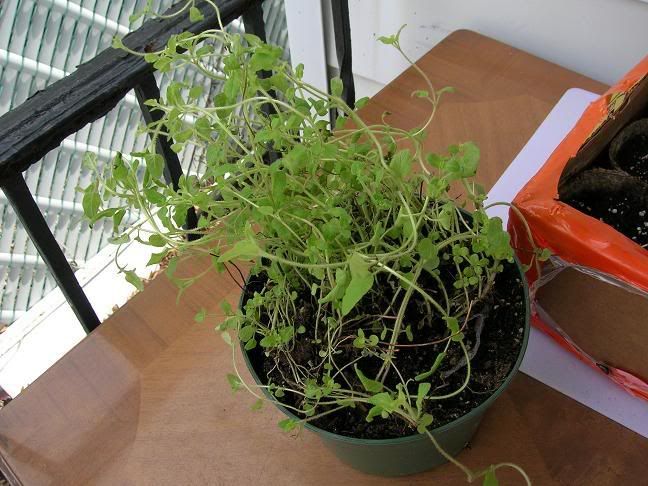 The daffodils and the crocus have also popped. I was surprised to see the crocus, I thought it was a lost cause.