And by magic, I mean being pawed in the face all night by Brie when I'm trying to sleep.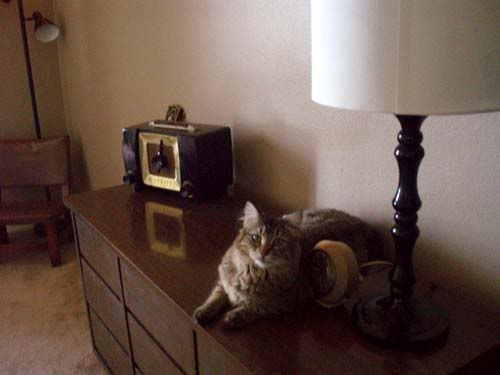 Our new room gets Brie's paw of approval.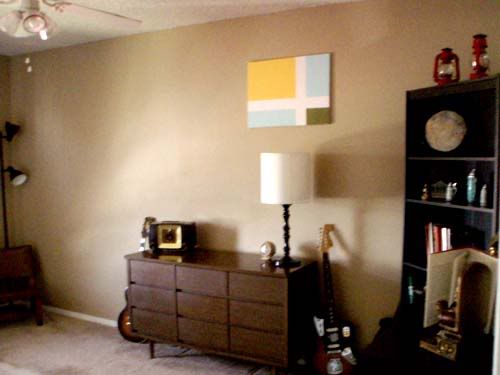 Our room has such odd proportions that it's impossible to take a picture of the entire thing. This is the view from walking into the door and glancing to the right. Since this picture was taken, we hung the shown painting's counterpart. They're lovers. Adam, my boyfriend, and I made them. Mid-century Danish style dresser was bought at Goodwill for $15US. Lamp base was from Goodwill, $3.99US. We scored the lampshade from Target for $15 down from $20 because it's slightly damaged. It didn't fit, so I taped it to the lamp. Not even Brie can knock that shit down, I'm an expert when it comes to tape. In the upper corner of the picture, you can see a leather chair. Behind that is a typical college-esque floor lamp. I'd get rid of it but it gives us beautiful mood lighting when we have sex since I put amber bulbs in there. My great-grandfather actually made that chair. Strangely enough, my great-grandfather and my grandfather made a lot of the things we put in our house, including a really gorgeous marble end table that I haven't taken a picture of yet. The red lanterns were repurposed to decorate another part of the apartment; unfortunately, the area we redecorated, while being very gorgeous, is not photogenic at all. By the way, it really pisses me off that this picture is so blurry. Adam's camera is a piece of shit and don't let anyone try to tell you otherwise. If there's ever a good picture, it's because of my cunning prowess.
This is the area of the room that divides the entry door and the door to Adam's studio (ie., the closet we sacrificed for him and now have no storage space because of). So, essentially, these are the items you would see when you walked into the room and looked immediately to the right, although, for the spatial recognition challenged, it is obviously not the same view of the items. Also shown is the painting we didn't hang until after the pictures were taken. God, these pictures do not do this room justice.
This is what you immediately see upon entering the room. I obviously did not show this one first because it looks much less impressive. Since taking these pictures, we have added two gorgeous Asian-inspired tapestries that match the Moroccan lanterns very well to the wall running against the bed (left-hand wall of the room). Then we added a gorgeous paisley shadowbox that looks very bohemian, which I scored for $2 because it was cracked. Technically, I suppose it cost a bit more because of the glue I bought to hold it together, but it's not like I ran out of glue or anything, so the cost didn't go up too much. I really need to take pictures of what's going on on the left part of the room because it really balances everything out. It felt like all of the eye candy was strictly allocated to one side of the room, and the addition of the wall-hangings rounded everything out perfectly. They add a lot of warmth. At night, the entire room has a warm, amber-toned glow.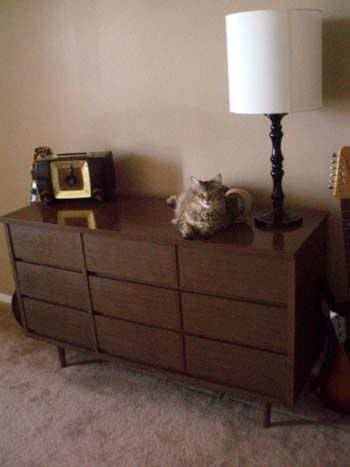 She rendezvous there at night and that's when I get all my snuggles in. She idles there until the exact moment I fall asleep, at which point I hear a dainty trilling "prrowr!" and little pokey-toes on my stomach. She looks at me very concernedly as she delicately meows and places her paw on my face. She knows when I'm not really asleep because after the second paw, she actually slaps me. With her claws out.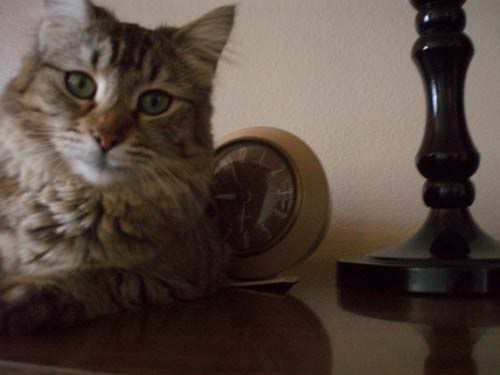 THAT CAT IS GORGEOUS GODDAMN.
Got the radio at an antique store for $36, down from $52. Adam was extremely hesitant at first but now I'm pretty sure it's his favorite thing in the house. It actually does work. It matches one of his guitars perfectly.
We got the clock from the same antique store for $12.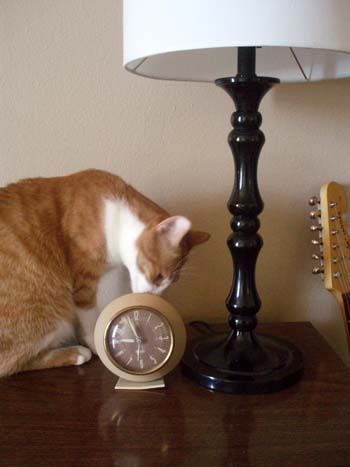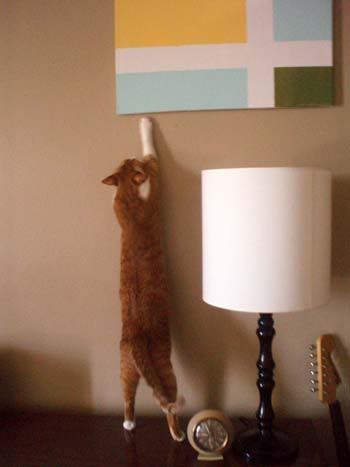 Clearly, Cheddar approves.