This is my 3rd summer with my own garden and if there is one thing I've learned it's that I don't know nuttin'. I've got two veggie beds and this is them today. Here we have tomatoes, peppers and weeds: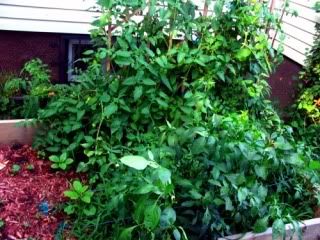 There are Juliets and Celebrity tomatoes in this jungle. The Juliets have gone mad. The problem is they won't ripen.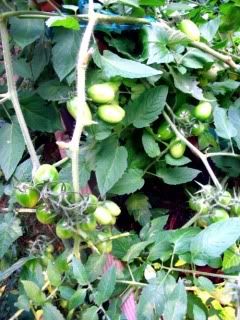 There are also Celebrity tomatoes green on the vine too. It's killing me seeing so many tomatoes and yet only harvesting perhaps two bowls full. The 'maters are grown so well I've had a hell of a time keeping the tomatoes from invading the peppers. There are 8 different varieties of pepper plants hidden under there. All are producing peppers. Here's a close up of one plant.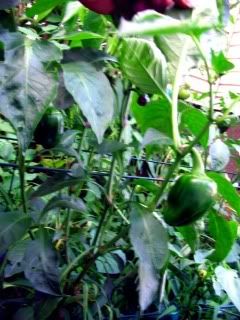 Next year I'm putting all the tomatoes all by themselves in the smaller bed. The smaller bed has beans, zucchini, two volunteer tomatoes and weeds.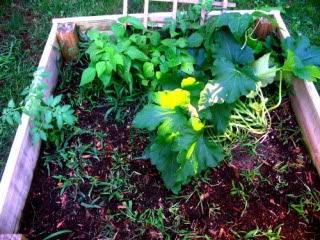 See all that space not taken up by anything? For some reason I thought the zucchini would fill the void. But no. They decided they like where the beans are much better. This didn't turn out too bad because there is something eating everything growing in my backyard. It was eating the beans too but once the zuc got in there, whatever it is stopped. Unlike last year when my zucchini plant spread far and wide very quickly and then died suddenly over two days, this plant didn't grow much at all and I despaired. But low and behold. Today I saw this!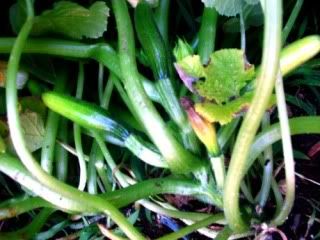 This is a different variety of zuc than the one I tried to grow last year. Last year, before it died so suddenly, the fruit was sorta spread out. This guy is a compact type. Very different. And that's my long and, well, long veggie bed story. I hope I didn't bore you to tears.