Background: I'm pretty much a total newbie at gardening. My mother had a reputation for being a killer of plants, so I never did anything with plants while growing up. A few years ago, my husband's workplace gave out aloe plants at their company's anniversary dinner- I took two home, they were happy little plants (and have since grown enormous and are trying to take over my living room with their offshoots…), which gave me the courage to branch out a bit.
Anyway, I have some basil that I was growing in a windowbox- sized planter, and I was planning to try to re-pot it since my plants are way too crowded in there now- but when I went to do that, the roots had fuzzy white clumps all over the outside.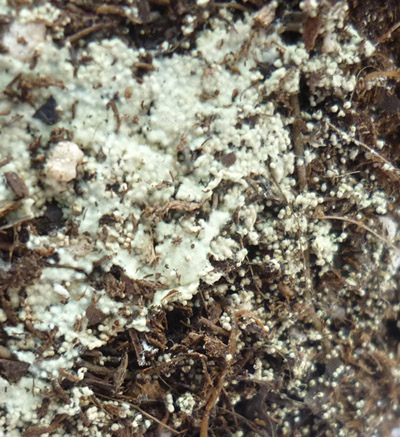 What exactly am I looking at, here? Pollen? Some kind of mold? The eggs of a particularly prolific bug (ew)?
Thanks for any identification/advice on what I need to do!