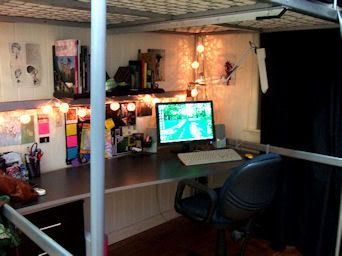 Hello! I'm Mel, I'm nineteen and I'm from Brisbane, Australia. :) This is my room! Sort of image heavy. :)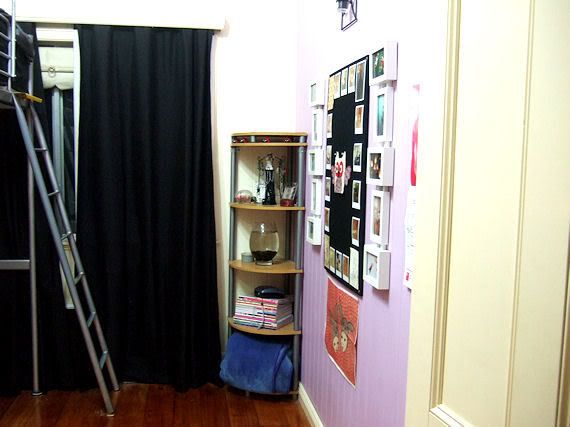 Looking towards the left you see my bed/ desk!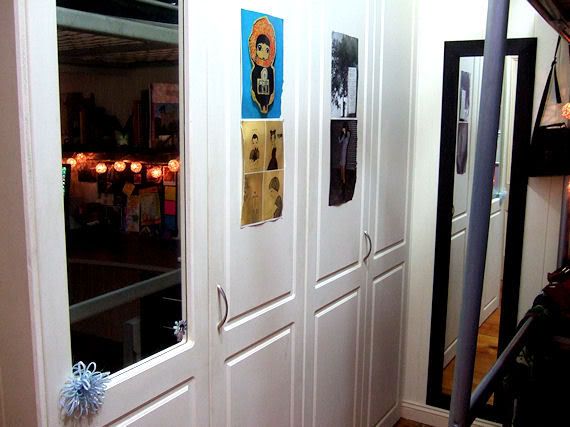 Around the corner is my lovely cupboard... With the doors open/inside: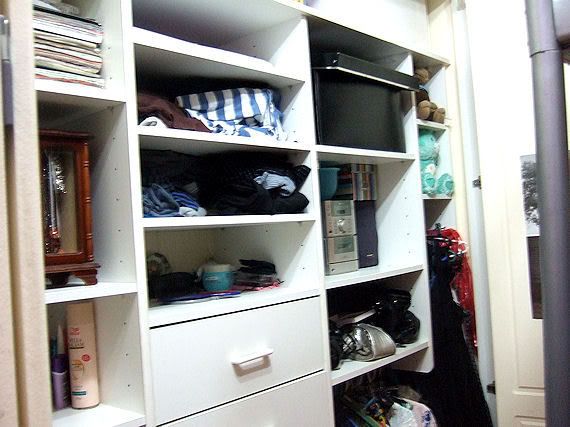 Uh, it's a bit messy...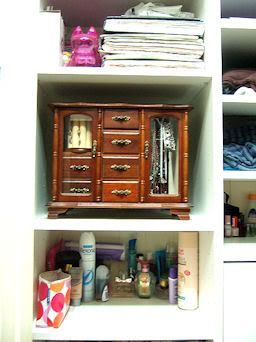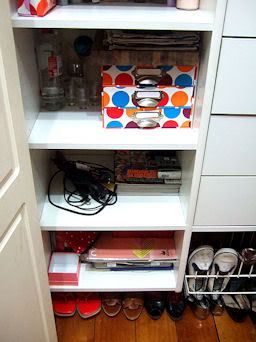 I keep jewellery I don't wear that often in the wooden case (my grandmother left it to me when she passed away a few years ago), and various make up/ perfumes/ etc. on the shelf underneath. Random alcohol stash, hair straighter, curling iron and draws to keep bit of paper/crafty stuff in all neat! And a wooden chopping board (so I wouldn't keep scratching my desk when I was using a stanley knife to make models for uni... :/)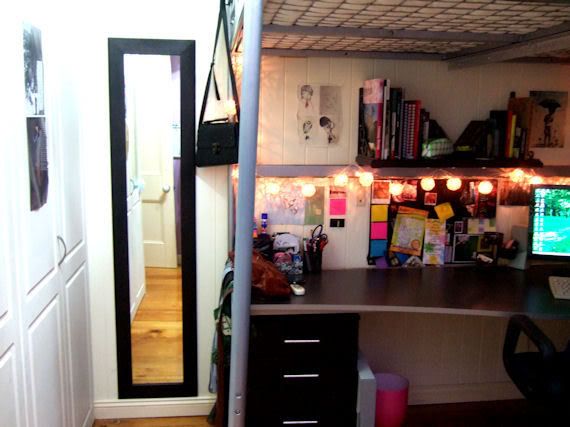 Back to the doors being closed. Full length mirror, and some of my desk! I keep my scarves, belts, ribbons, etc. over the rail of the bed. Under the desk I keep all my other nick nacks, my drawing board and my bin. :)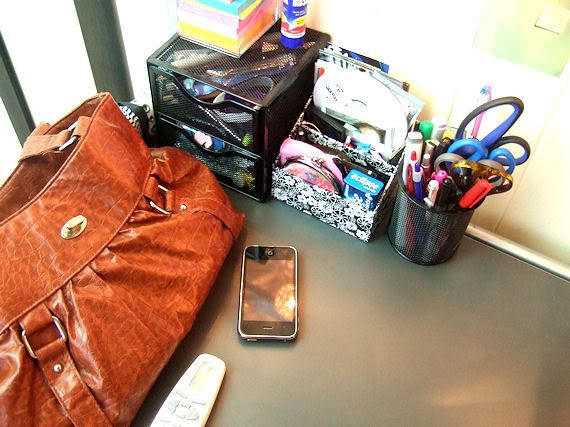 Pen holder, little draws, post-its, bag, iPhone and air conditioner remote!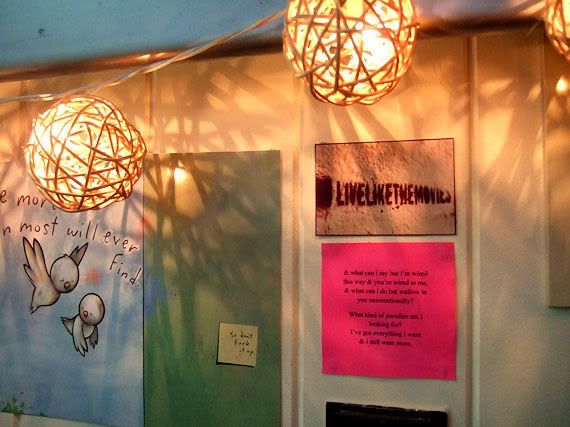 Close up of pretty lights and some of the pictures/quotes on my wall. And part of a Kurt Halsey calendar I had a few years ago. :)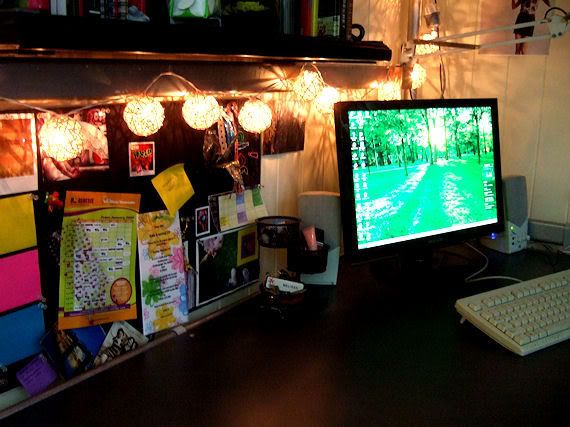 Looking down towards my computer... pin board and a little holder for lip glosses, keys, pins, name badges...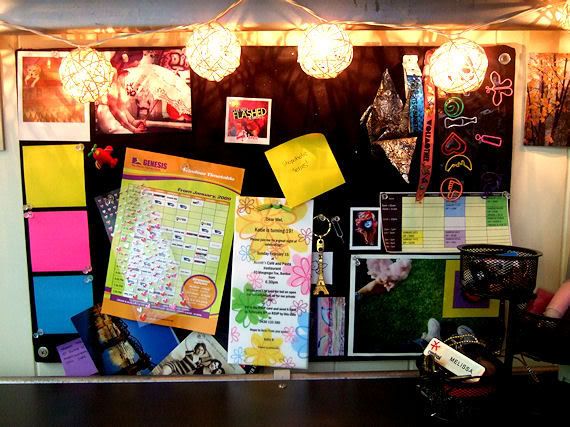 Close up of the pin board! Post cards, gym time table, stickers, wristbands from various music festivals, origami swan I made, a birthday invitation, uni timetable, the tattoo idea I want (I'm keeping it up for six months to make sure I don't get sick of looking at it... :P), a keyring a friend bought back from Paris...
Shelf above my desk. Uni text books (can anyone guess what I am studying?!), a few CDs, paper wieght, yearly planner, journal, sudoku book, pencil case... random sim card that never ended up working and PostSecret books!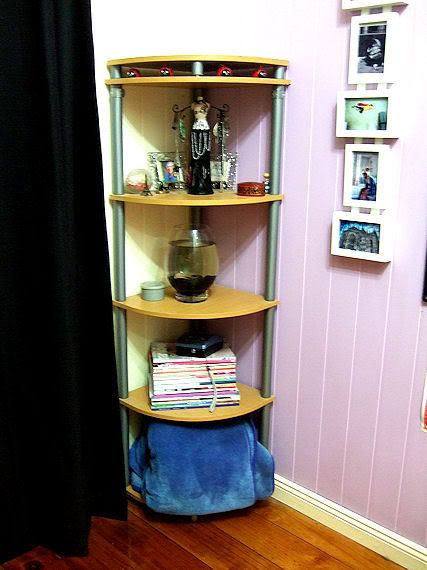 Now onto my corner shelving unit... I've been wanting to put something on top but I'm not sure what I want there... I was thinking some form of vase maybe. Any suggestions?!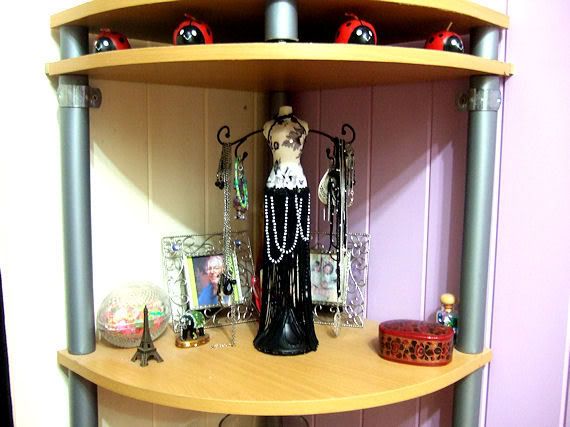 I keep the jewellery I wear most often on the jewellery person/tree.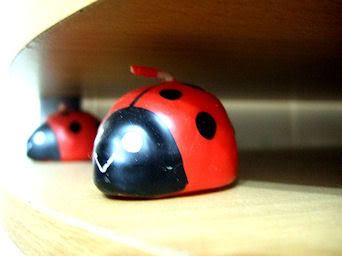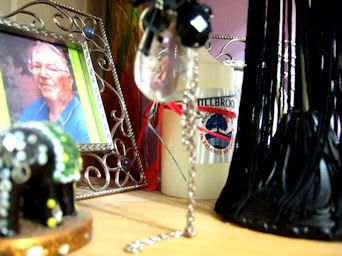 Cute lady bug candles my mum gave me a few years ago, and a photo of my grandpa, and the candle I was given when I graduated high school (yeah, I don't know why we got a candle either...). Oh, and a little elephant I bought to give as a present to someone, but then I realised the trunk is down which is apparently bad luck (?) so I ended up keeping it, haha.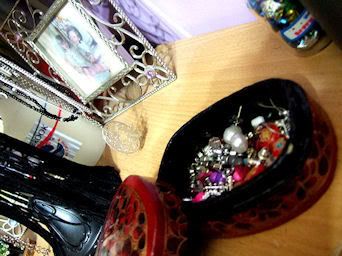 A friend made me a lot of origami stars a few years ago, so I keep them in a crystal egg thing... My little box of earrings that I wear often, and a photo of a young me with my grandma!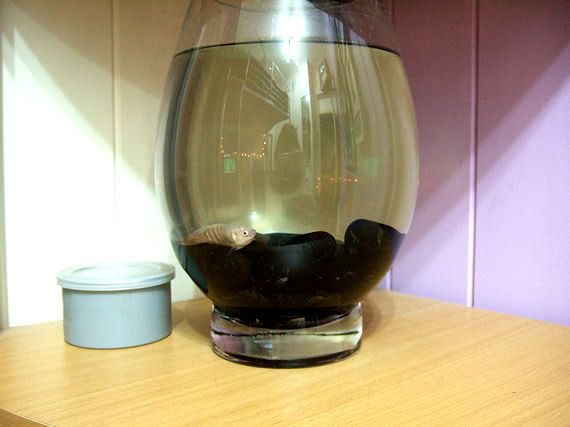 The next shelf is home to my fish, Taco. I swear the water isn't actually that dirty! It always comes out a weird colour with the cream wall in the background. Taco's looking a bit deformed there... uhh. Bad angle, haha.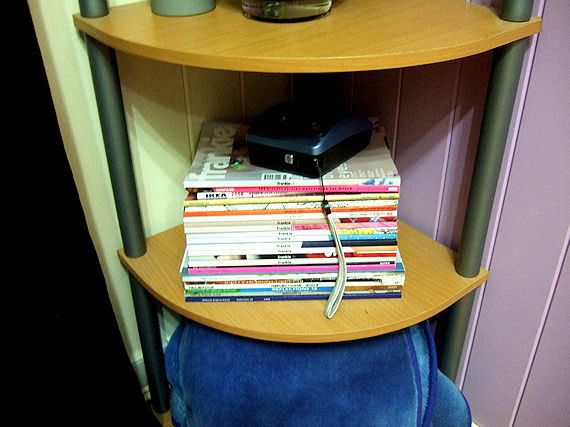 I keep some magazines and my Polaroid camera on the next shelf, and a blanket down the bottom. :)
Wall decorations...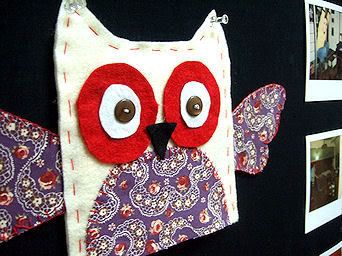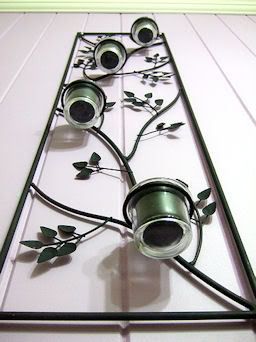 Close up of the little owl I made... and the candle holder on my wall above the pin board.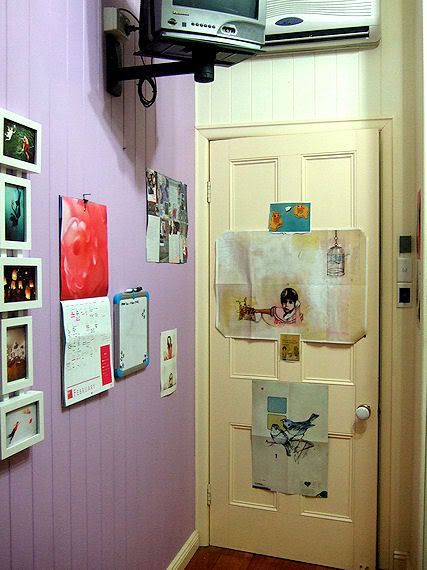 Looking back towards the door... wall calendar, TV and white board. :)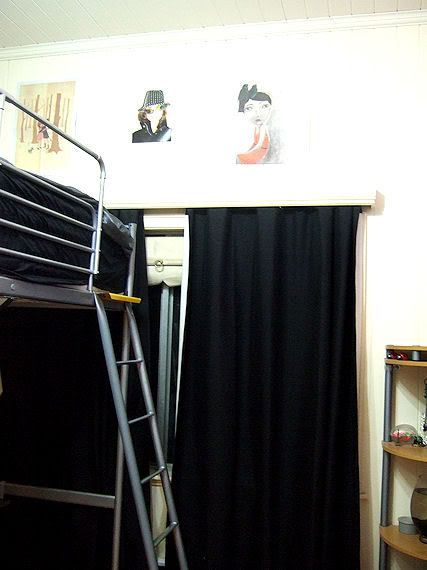 Now up the ladder onto the loft bed! My parents decided I needed a new mattress, but didn't think to measure the height of the bed's railing... so I've added some strange higher rail attachment so I don't roll off my bed (which would happen surprisingly often... I always wake up to bashing my head on the rail. :/), and an extra step at the top because my legs are too short to reach from the top step to the top of the mattress... :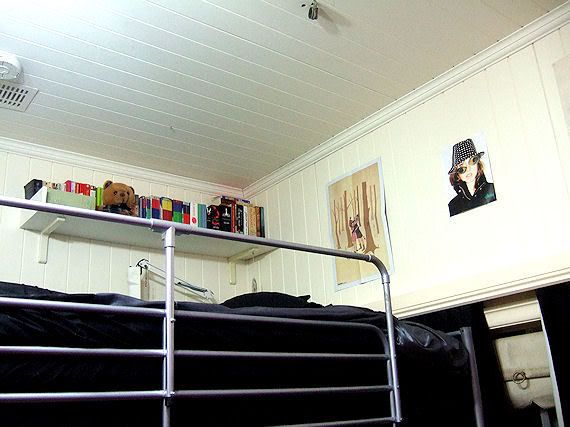 Bookshelf!
Tissues, teddy...The teddy is actually a heat pack I use when I pull a muscle, have cramps or whatever... plus some remotes, and my retainer... and books of course. :)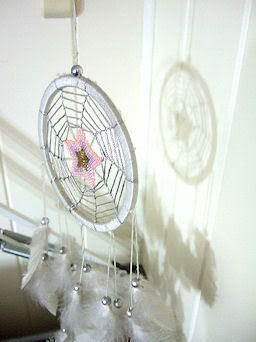 Dreamcatcher, and my doona cover. :)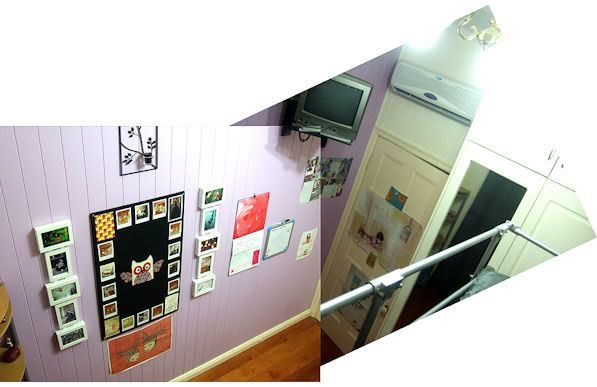 Haha, a lovely photo montage I made of the view down from the bed. :)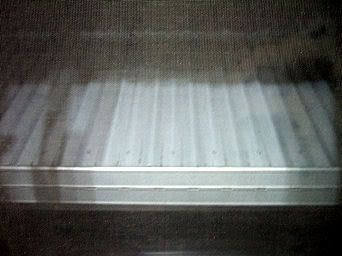 This is the view from my window...! Hence why I always have my curtains closed. I used to have a nice view out over the street, but the neighbours decided they wanted a huuuuge carport, so the roof come up to my window. :( The glare/heat etc. is horrible. Especially because my room has no fan (as it would cut off my head, haha)... and this is why I have an air conditioner! :)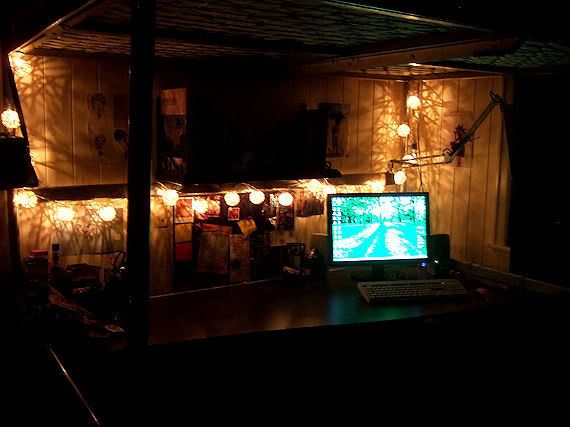 With all the lights off, excluding the fairylights. :) I love the patterns they make on the wall!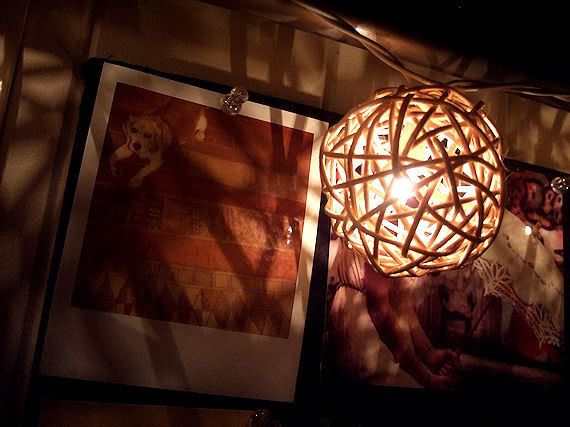 And I'll leave you with a polaroid of my doggy, hah. She's gorgeous... her name is Lucy! :) I hope you all have a fantastic day!