I just finished my daughter's twin bed comforter/patchwork quilt. I want to share it with you and I want to give you instructions. This is sooooooooo easy it isn't even funny. Seriously, you only have to be able to sew a straight line. How to make people think you are a sewing goddess. Instructions and pictures: Here is the full sized quilt I made...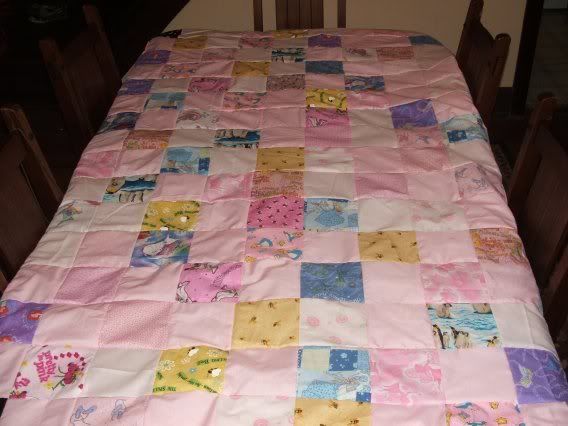 The Back (it really
is
even. It's just hanging off the table off center).
Details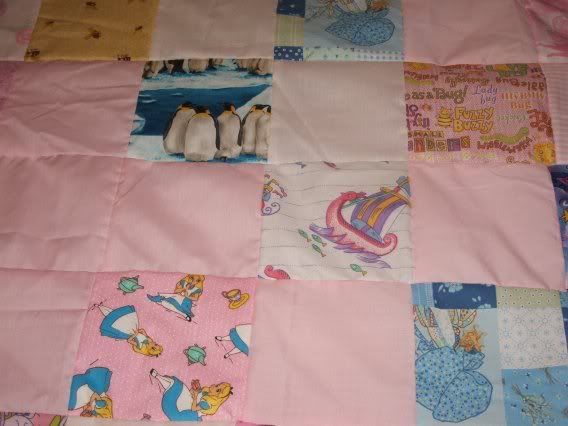 Here's how to do it. 1. Cut a square pattern out of cardstock. I made mine 6 inches square. It will accomodate a 1/4 inch seam allowance on each side.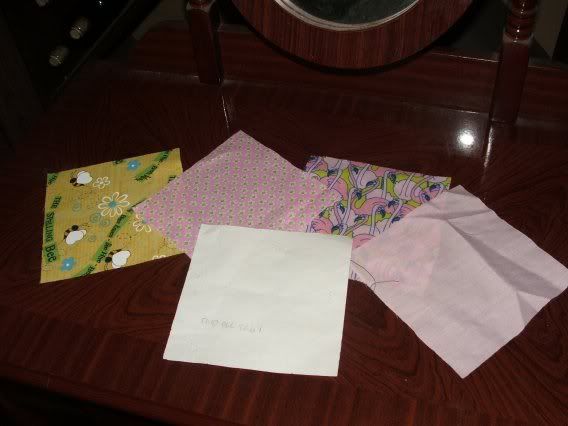 2. Determine how many squares you want across and down (my quilt was 10 across and 15 down). 3. After determining how many squares you need, determine the full dimensions (81" x 54" for example. Make sure that when you purchase fabric for squares you also purchase enough extra for the backing. Pick up some batting as well (the loft depends on how fluffy you want it. 4. Using fabrics you like cut out how many squares you need. You can uses all plain color squares, image squares, pattern squares, combinations, etc. You can find all sorts of fabrics at places like Joanns or Wal-mart. 5. With a simple straight stitch, sew squares together to form a row. When you have your rows, start stitching
those
together. It's easier to work with the short row (the 10 piece row as opposed to the 15 row for example). Once you have all your stips, sew them together the long way. I highly suggest sewing together only 5 rows at a time. Then sew the five row panels together. It can become cumbersome to manuever and sew. 6. When you sew you can create patterns if you want. Every other patch solid, every other row a different fabric...whatever. Make yourself a pattern grid to design it if you want. 7. Once the whole piece is together, sew your backing. Depending on the size you may need to harlequin it to get a large enough piece. 8. Now this is VERY important: Pin the RIGHT SIDES together. Place the properly sized batting on top of these two pieces touching the wrong side. Pin together. I cannot stress this enough... PIN PIN PIN PIN PIN! 9. Sew around the entire blanket leaving an open space to turn. 10. Turn rightside in and sew up the open section. VOILA! Happy sewing! Here are some other examples! Two crib sized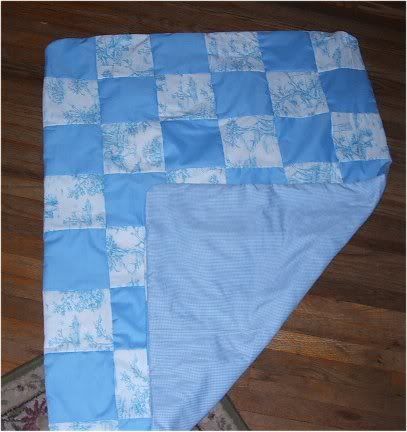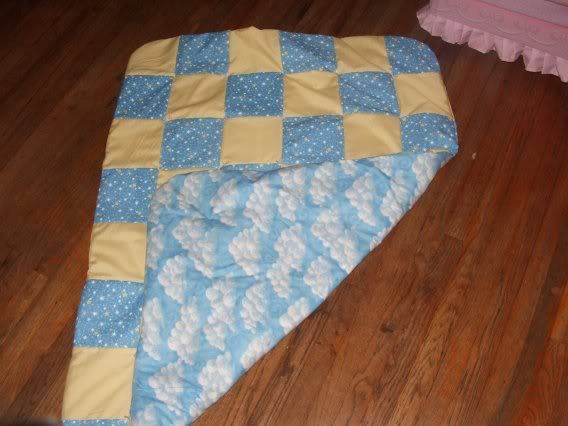 Two 10 x 10