This is my room, I love it lots.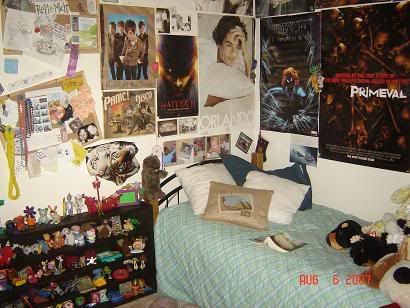 My lovely bed. I usually sleep with everything in the picture. They're just to the right, squished against the wall.
Bed again.(:
The wall above my bed. Anything on my walls has been collected over about 5 years.
I have this nifty entrance way that's a bit like a hall. It provides extra wall space that makes me smile. On the scarf hanging down is pins. I have a collection you could say. Marine Corps flag received from my dad.
Other end of my mini-hall, the door to the outside is the heavily decorated thing.
The out side of my closets. I get everything from magazines, I have a scissor callous on my thumb.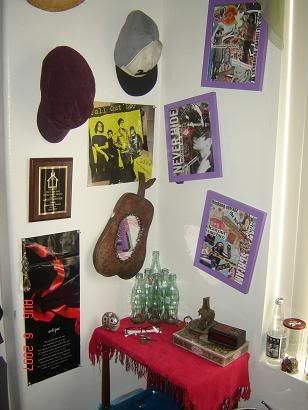 Table thing I have in the corner to hold stuff. The picture frames hold collages I made myself.
Higher up, I have hats climbing up my wall. The tee shirt my brother decorated for my birthday.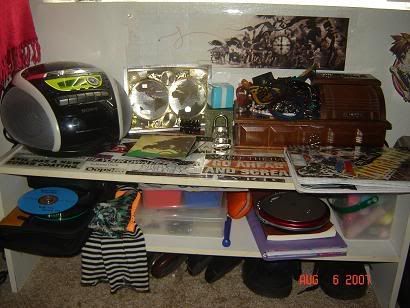 To the right of the corner table, a low shoe rack that I turned into a table thing. Word cut outs from magazines are taped to the top.
My lovely typewriter.
And above the shoe rack and type writer is my window. The green thing is the bottom of a skirt I cut off and hung up.
My TV and the clutter that comes with it.
My book case that's more of a display case. Loads of stuffed animals and things that mean a lot to me.
Bulletin boards above my Happy Meal collection.
Said Happy Meal collection, over 7 years of too small meals.
Inside of my closet, that orange thing is a puppet named Noodle from Six Flags.
Other side of the closet, loads of books and manga, a mirror too. End. Hope you liked it.