But I always enjoy reading the posts here!! I'm Emily and I'm at home for the summer between my Freshman and Sophomore years of college. This summer I got a new bed and I new dresser which is pretty awesome. But it's a little obvious that
my room
is stuck between childhood me and adult me. Let me know what ya'll think!!!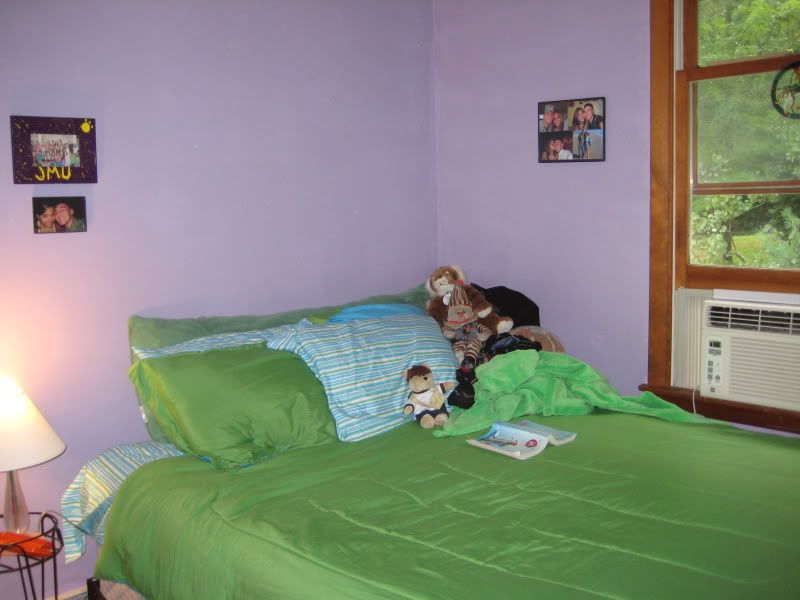 Virtually the view from walking in the door. My bed, which is new and a QUEEN. More room than I've ever had, but since my boyfriend is on a deployment he's had yet to experience the expansiveness :[ which is basically the only time it's hard to sleep in a twin/full. My walls are purple and sparkly which my mom totally surprised me with when I was like 8 and came back from Girl Scout Camp!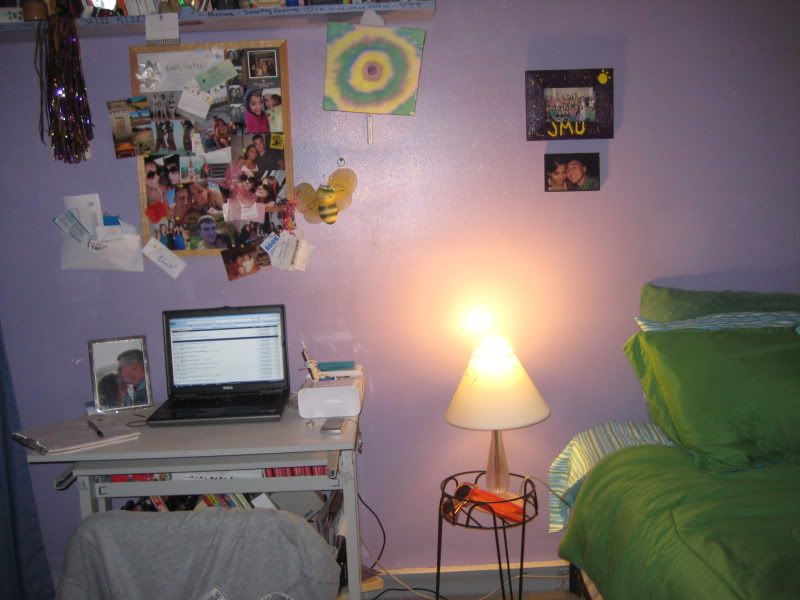 View of bed/desk area. I use a plant stand for my lamp, which started when I was getting new carpet but has not stopped yet! I usually keep my glasses in that orange case.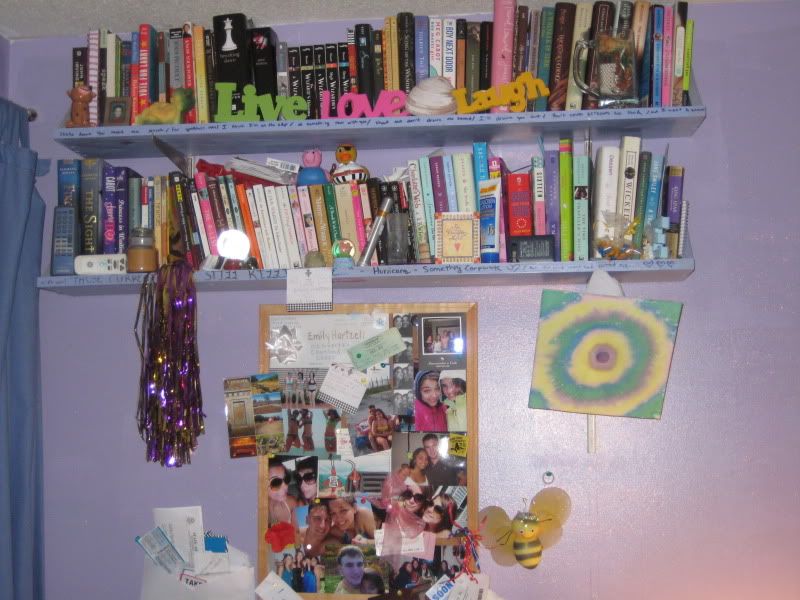 Closer view of ABOVE my desk. The shelves I made, the tack board with rements of high school and some college sprinkled in. My tye died cap and then a pom pom with for my JMU spirit. They always seemed so conflicting next to each other. The envelope to the left contains things that need to happen like car emissions notice and prescription for physical therapy. Shell from one of mine and Gabe's trips to the beach before he deployed. Corsage/Cup from the first prom I ever went to in my freshmen year of HS.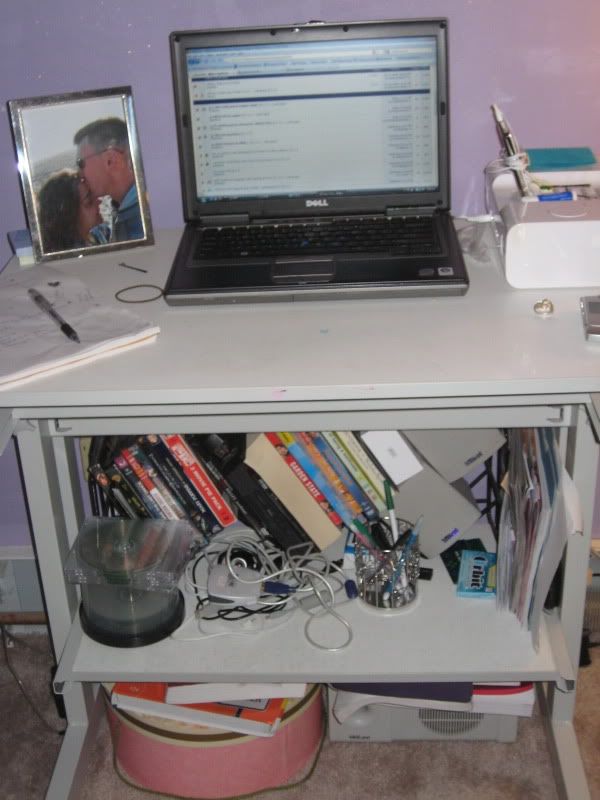 Close up of my desk. Silver framed picture of me and Gabriel (it's on of my favorites). Ihome and the new ipod that Gabe got me before my birthday. My old skool razr because I broke my phone at a party this summer (someone spilled tequila on it). Last semester's textbooks are on top of the hat box and to their right are some of this semester's. Various electronic things and DVDs also propagate this area of my room.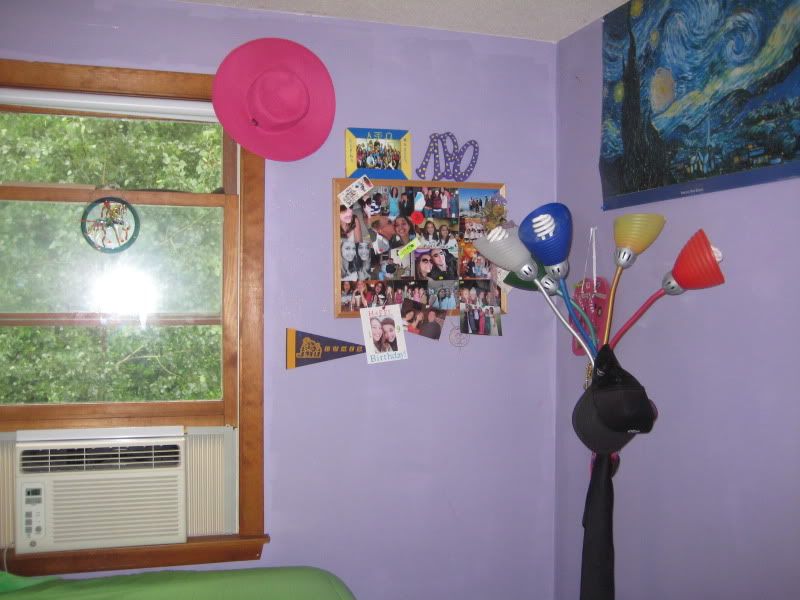 The foot of my bed, window, more tack boards, my favorite Van Gogh print that managed to survive the new furniture/new carpet phase of this summer.
Can you tell I'm a JMU Duke Dog yet?! A frame my Big gave me with pictures of us and other Alpha Phi Omega paraphernalia. That trucker hat is a remainder of Blink 182 from BEFORE THEY BROKE UP. I got it at one of the last concerts they played. I was like, 14, I plan on bringing it back when I see them this summer and in the fall in Virginia. Hah. Those ties are Gabe's from a wedding and my formal for APO and he just abandons all his crap with me. The silly Marine.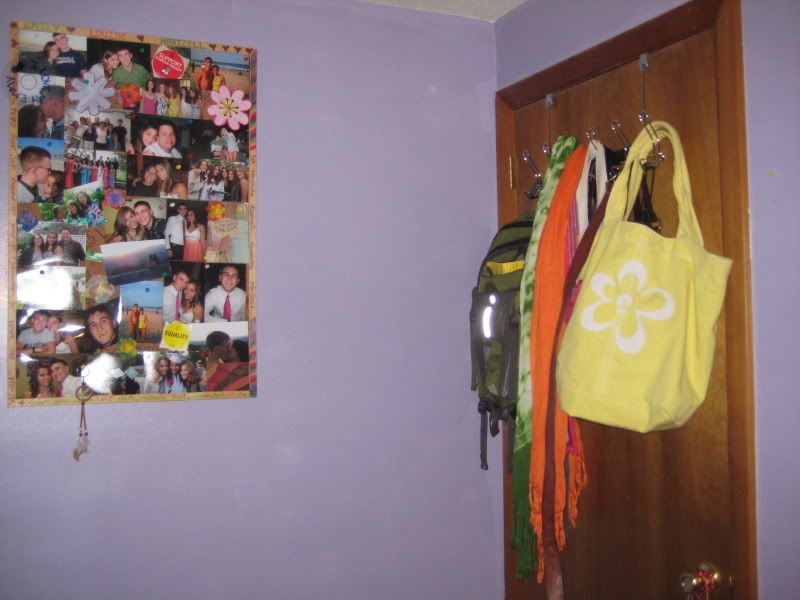 This is the back of my door with bags, the yellow one with the flower is from Limited Too, I have worked there since I was 16 and I am a manager for the summer now, even though it's called Justice now. My back pack, some scarves, other totes, belts, etc. Semi organized fashion.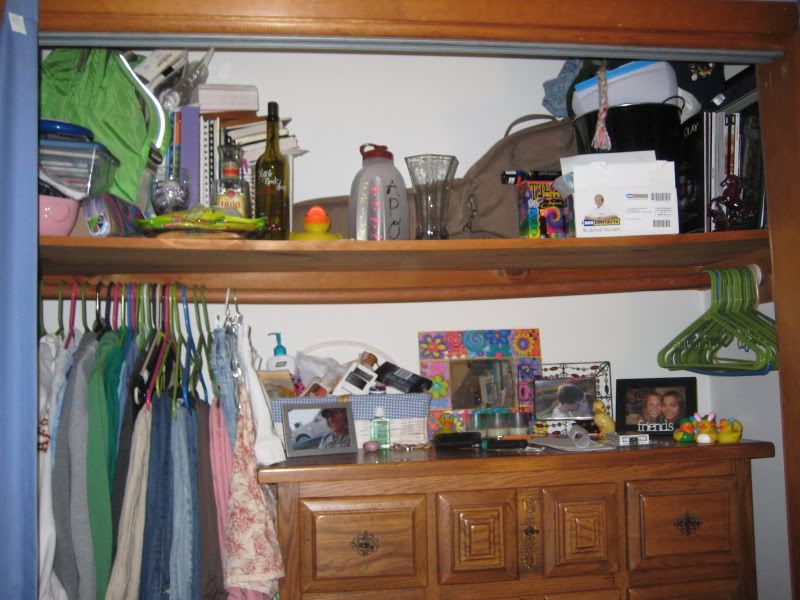 Closet. I rarely close the drapes that go over it. But i just got the bureau. I has a picture of Gabe in uniform and other pictures from school and of us. Candles. Ducks because I'm in the duck family in my fraternity and some letters from Gabe and stuff that I've been meaning to send him. a Basket of deodorant, makeup, lotion, etc. And I hang pants and sweatshirts and nice shirts that I don't want to get wrinkled in the drawers. I also use this area to store some college stuff aka printer and drawers.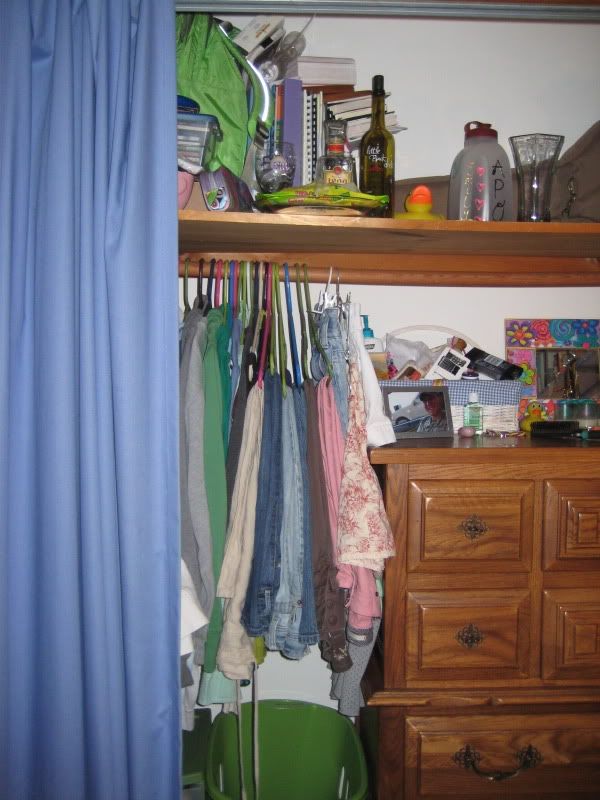 2nd view. You can see the wine bottle from Valentine's day with Gabe and other alcohol paraphernalia from school/friends. My guitar. A vase. Sour patches are my favorite. CD collection shoved into a bin.
An upclose of the huge dresser which I love. You can put everything in a separate drawer. I have a drawer for sports bras and a separate one for bathing suits! It's AMAZING.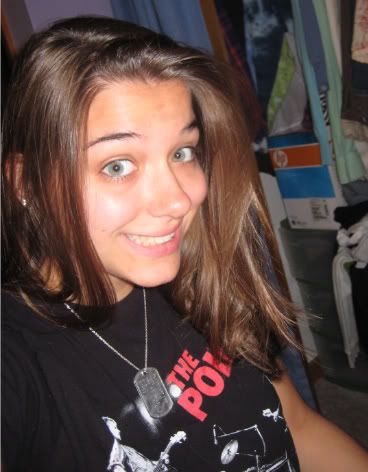 This is me for good measure! I took this yesterday for a form a post on haha. Thanks for looking! ♥ x-posting