My husband keeps telling me the aloe needs to be repotted in a bigger pot. I keep telling him is that the only thing a bigger pot will do is make an even bigger aloe monster. The aloe I grew back on Brooklyn windowsill would make baby aloes around it, I'd replant the babies in a small pot and give them away. This aloe is not making babies, it's just growing and growing and growing.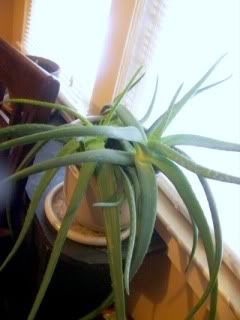 He is a monster who attacks anyone who dares sit at the head of the dining room table. I don't know if you can tell by the picture but he's got two 'trunks' for lack of a better word. I was thinking of taking it out of the pot, cutting the roots about where the trunk splits and replanting them in smaller pots. Or-- trying to tame it by NOT re-potting and seeing if it'll restrain itself in it's too small home. I have started avocados before using toothpicks and water. What usually happens is the pit opens up and spits out a stick like thingie that sprouts leaves. This time I planted it in dirt mid to late spring and set the pot outside. When it got frosty outside I brought it inside. This does not look like any avocado sprout I've ever grown in a cup.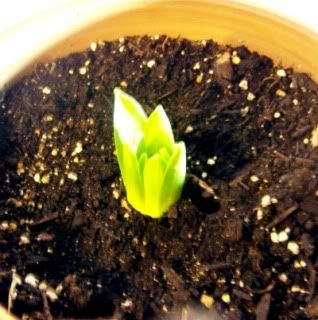 Since none of my avocados ever made it past loooooong and spindly before snapping, perhaps this turn of events is a good thing.