Because I am an impatient gardener, I did not want to wait two years for hollyhock flowers. After reading a bit on it I found that if you plant them in the middle of the summer they may grow enough during the first summer that they'll flower the next summer. Yay! I ordered two kinds of hollyhocks which arrived this Wednesday. Meanwhile, Justin--my son and muscle-- decides he wants to have a life. Him, Ebs and Kevin go to the beach and the movies on Saturday after which he stays over his friend's house. The brat still isn't home. But that's O.K., I don't need him! This is the spot I've chosen for the hollyhocks. This is how it looked about 45 minutes after I started preparing for planting.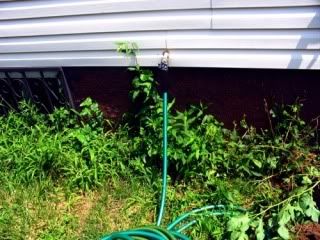 The reason is because in there there is a Super Weed. Or perhaps a shrub the previous owners tried to get rid of. Because this is how far I had to go to get rid of this "weed".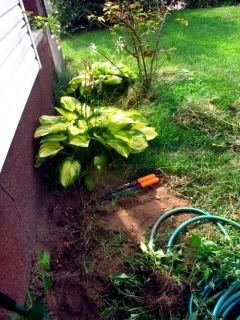 I am embarrassed to say that I let the weeds go crazy inside the rose bush and hostas at the side of my house. There's no picture of it because I cut them before I decided to do a pictorial. However, here is the stump out of which many, many stems grew to about 6' before this Saturday when I got the hollyhock bug up my ass. This is the terminus stub for this Super Weed: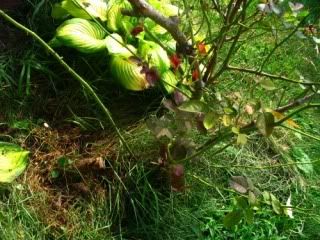 So yesterday I told myself that I was a strong, strong woman and didn't need The Boy to do no gardening. Stupidly, I told myself this at 12:30 in the afternoon. When it was about 85 degrees and the sun was beating down, down, down on my elderly, weak anemic ass. I got this far: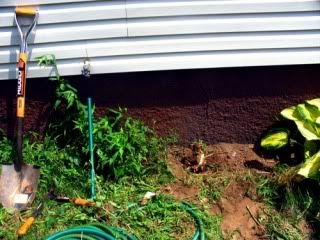 before I decided I might die if I continued. A little over an hour I lasted. That fucking stump REFUSED to give up the ghost. Also, that stump was connected to the stump in the rose bush by the thickest most stubborn roots imaginable. Let me explain how puny I am. I sat down to rest a bit with the idea that I would go back out and finish that fucking stump once and for all. I woke up still sweaty and dirty
3 hours later
. When I woke up today it was overcast and raining. By 8:30 the rain had stopped but, thank you Jebus, it was still overcast. By 11:30 the hollyhock seeds were planted:
P.S. That pretty, dark dirt is my secret weapon. I have a huge bucket into which I put the dirt that I dig from the garden, store bought garden soil, potting soil, mature manure, compost, a sprinkling of bone meal and blood meal. Also a lot of rain water. I don't put it in the bucket in any kind of recipe or anything. Any time I plant something I use the bucket to hold the dirt and this mixture just sort of built up. The plants seem to love it. And that was how I spent the weekend.