Hi, I'm Krystina, I'm 22 years old, and I live in the suburbs of Dallas, Texas. I've posted before, I just can't seem to find the link to my old post, sadly. Anyway,
my room
has changed quite a bit, and I took some new pictures awhile ago that I am just now getting around to posting!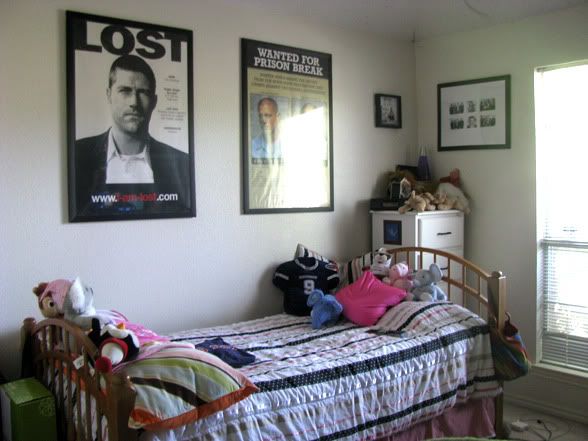 View from the door. I wish there wasn't such a terrible glare on my Prison Break poster, but sadly there is.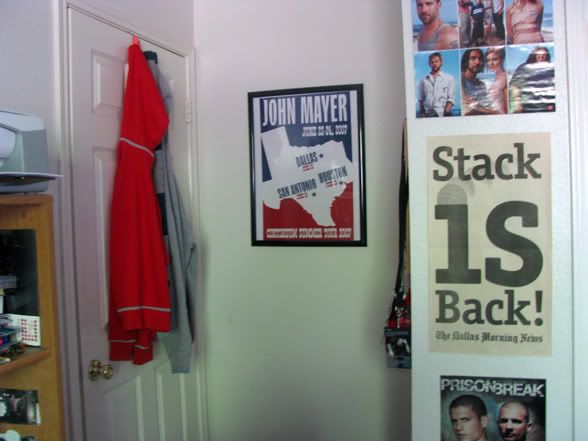 The back of my door. When my door is open you can't see the John Mayer tour poster that is behind it. I also use a hook on the back of my door to hang my hoodies.
My bulletin board. The bags hanging off it are from Peru, my cousin and his wife go there to visit and they always bring me then back. Among the other things we have on my board are airplane boarding passes, pictures of people I love, the wristband I wore on my tour of Fenway Park, Lane Garrison's (Tweener on Prison Break) autograph to me, etc. A larger version can be seen here if you're interested.
My closet doors. I'm working on getting everything on my walls in frames, and all the stuff on this wall is the last holdout on needing to either come down/go in frames.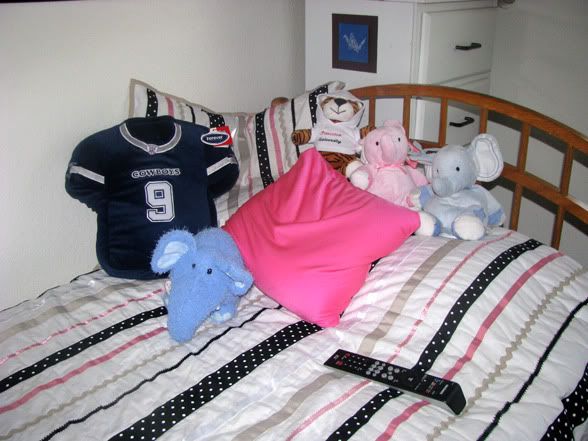 All my stuffed animals on my bed. I have a thing for stuffed elephants.
The top of my dresser! In the smaller frame is my CD autographed by Joshua Radin when I met him/saw his show. The other frame is pictures of the Prison Break cast that I printed, cut out, and put together myself. I loved that cast more than anything, and I love those pictures, so I wanted to have it on my wall. :)
My John Mayer posters and the tops of my DVD shelves. I love how these two posters look together.
This is terrible because I had to turn off my flash, but it's my RENT poster and half of my TV shelf.
My TV, which is my favorite thing in my room. I got it for Christmas, and I absolutely love it. Also, I really love Prison Break, just in case it was not evident from my television and the rest of my room.
My desk! It's kind of a mess, but I'm working on trying to get it cleaner. It doesn't work very well, it just attracts clutter.