I've re-done
my room
with hard-wood flooring. It was finished last week, but I finally had a day off to take pictures and share with you all. Its pretty clean, it almost doesn't even look lived in.... I'm pretty organized when I want to be, and I do, considering I've been sleeping on a mattress for about a month or so waiting for the flooring & new bed frame. Lots of pictures under the cut.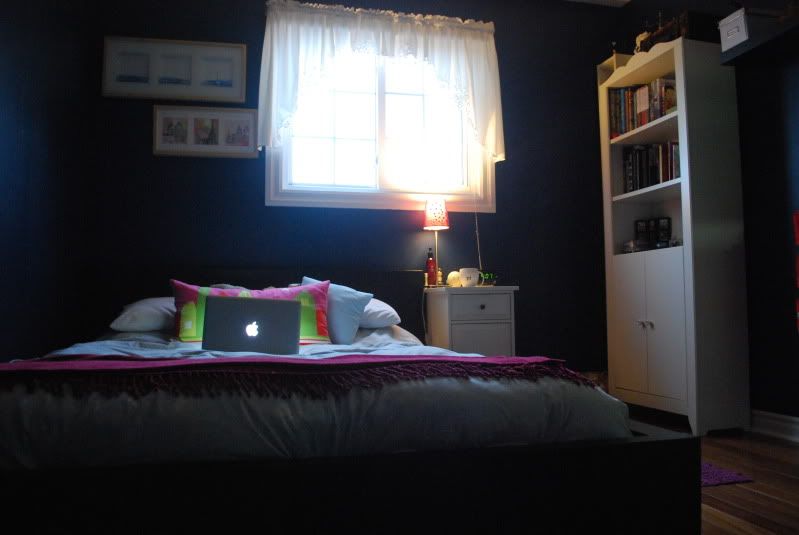 view from the door basically.
"I be a pea" poster was stolen from the halls of my HS. i thought it was really funny for some reason... And there is a big mirror there so yeah i do not have two identical doors.
the ever-so-shitty view from my window. winter sucks. snow sucks. *insert new IKEA winter sale commercial here.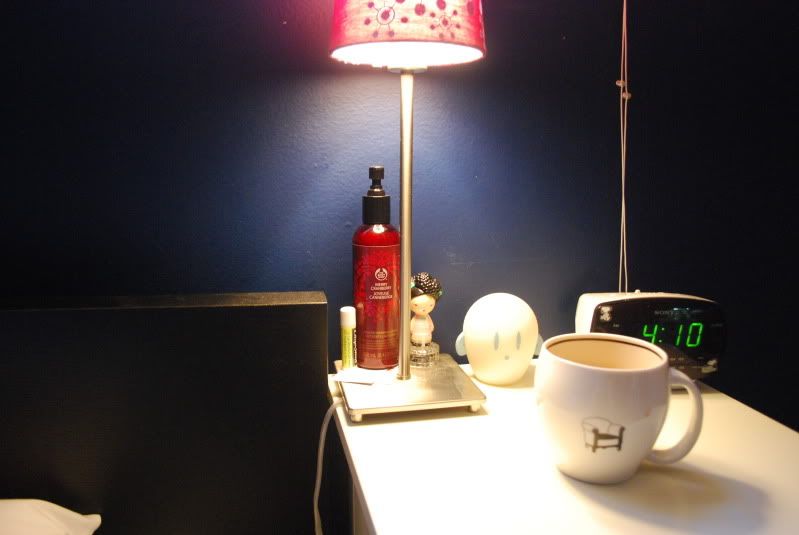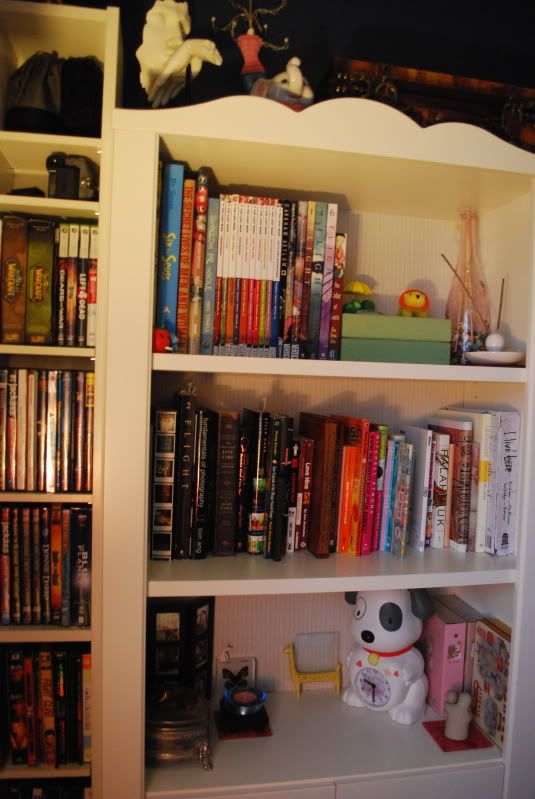 1st row: my comic books, post card box from far-away friends, and insent sticks. 2nd row: I tried to organize some books by color, too bad i failed with having mostly black and white. 3rd row: photobooth picture collection, heart shaped box from my grammy, dog clock piggy bang which never worked, two mini-photo albumns, and cute salt and pepper shakers huggin'. Also, my video games, movies, and camera lenses. The breifcase at the top is FULL of pictures.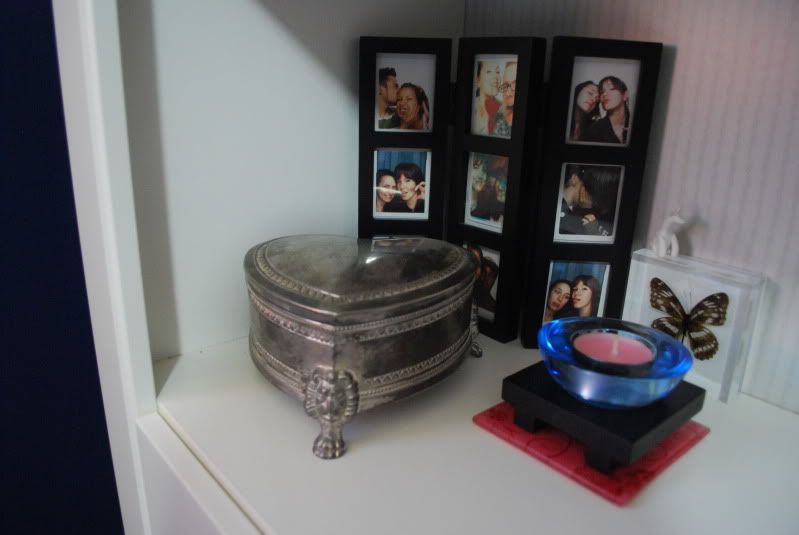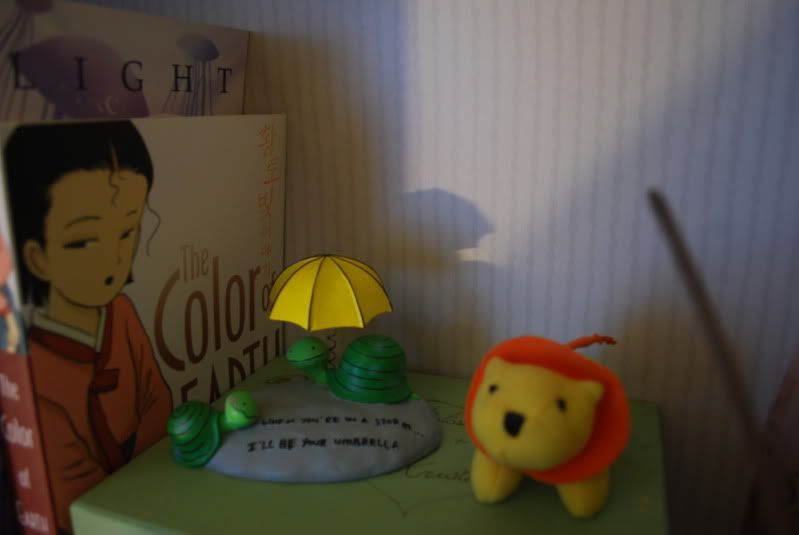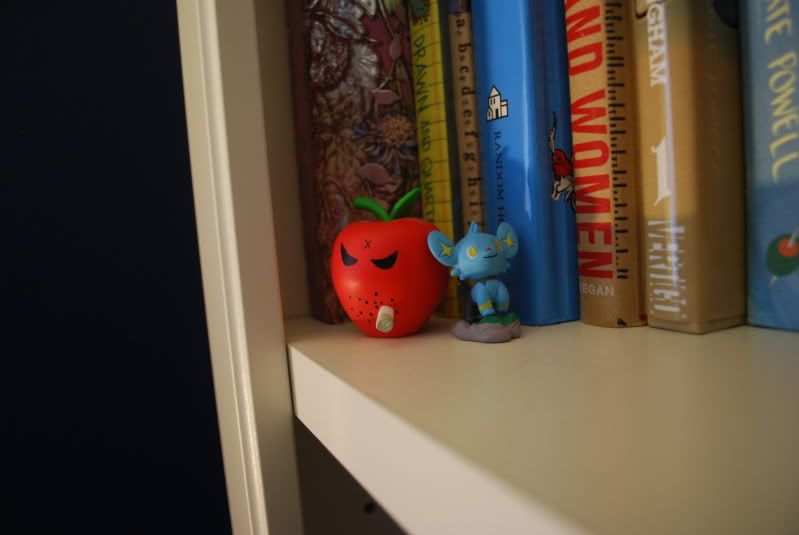 I still need to get some gravel in there for my fish. And btw, that standing next to it is the best scalp massager ever.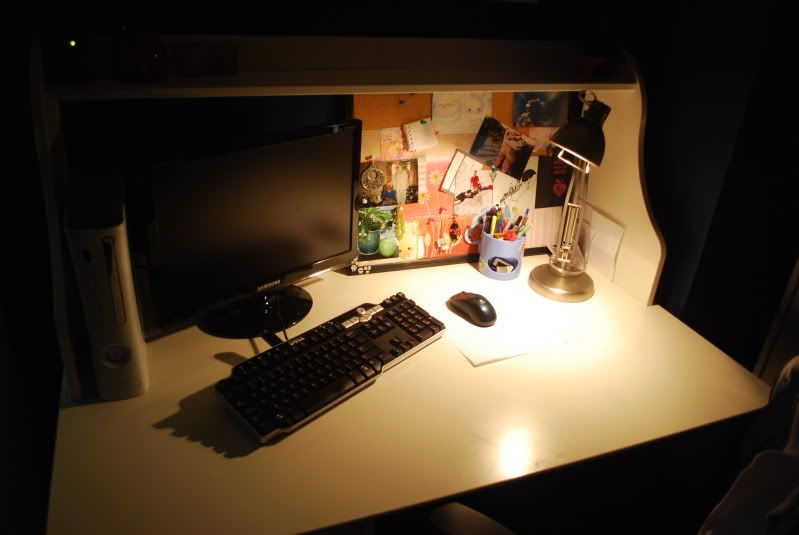 my desk is pretty big. Its usually crazy dirty with crumbs, eraser sheddings, and coffee rings. I do have to use a piece of paper sometimes when my mouse doesnt want to work for me. Its perfect for drawing.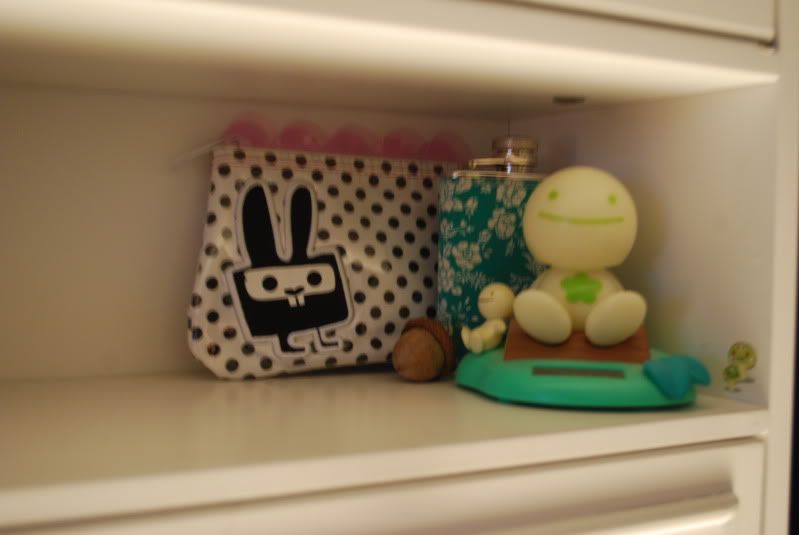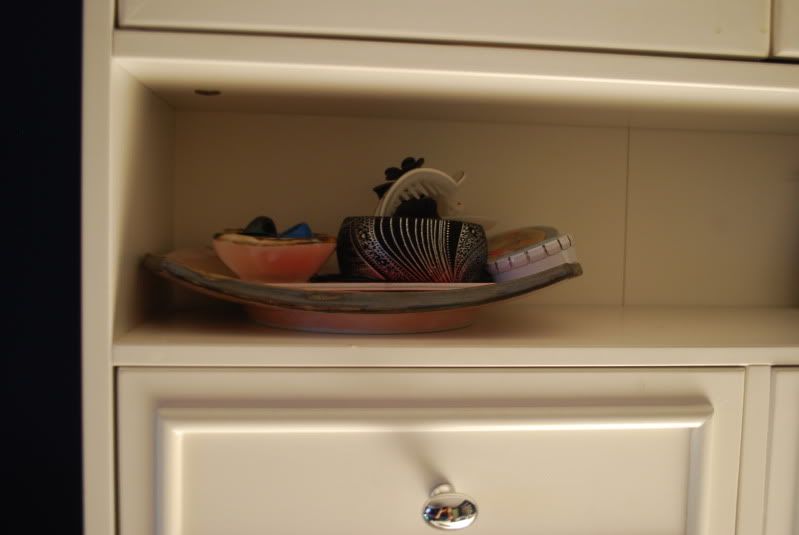 The sick bloody heart my Bf made for me for V-day last year. It hangs and swings, and the veins stick out a little making it look swollen and pulsing.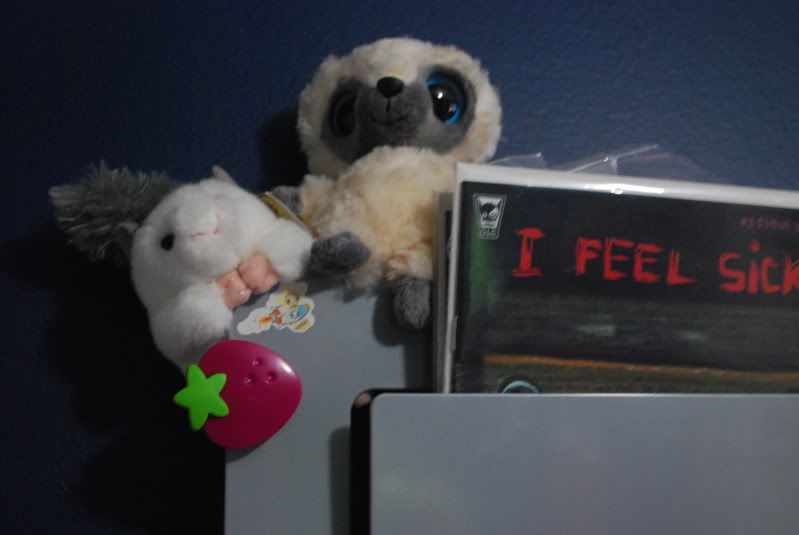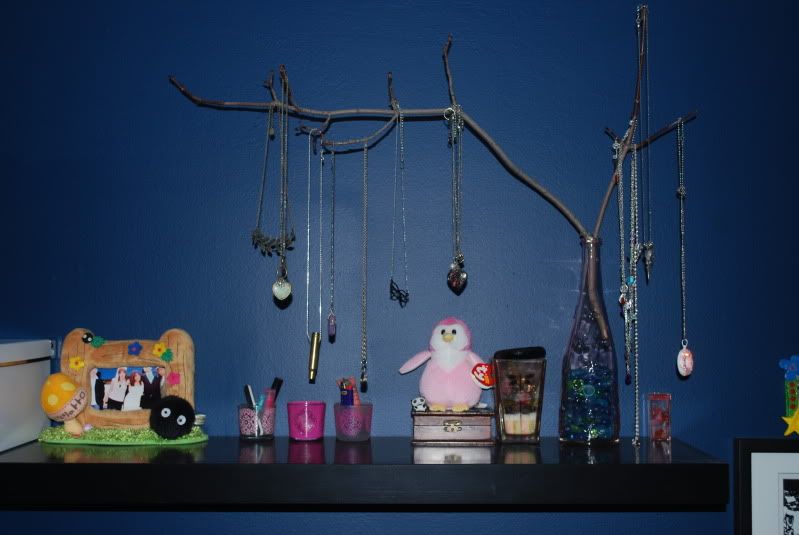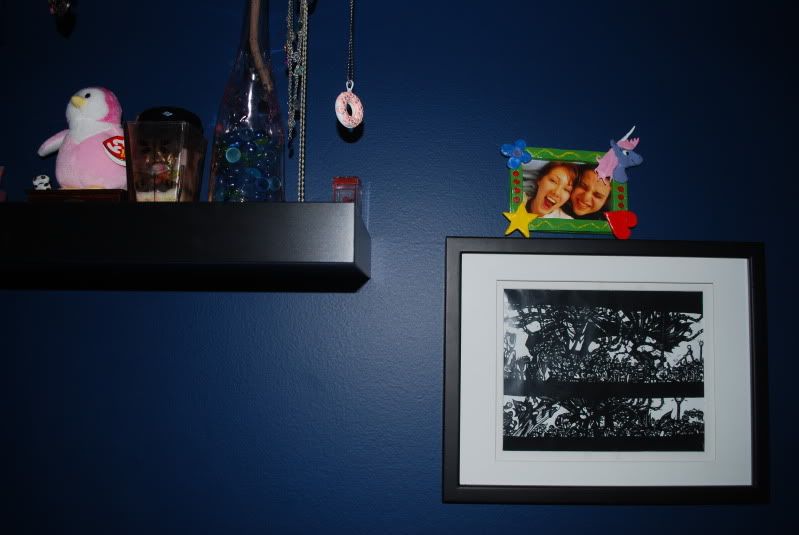 Original art from the streets of Toronto, a handmade picture frame from my bf. its SO OLD!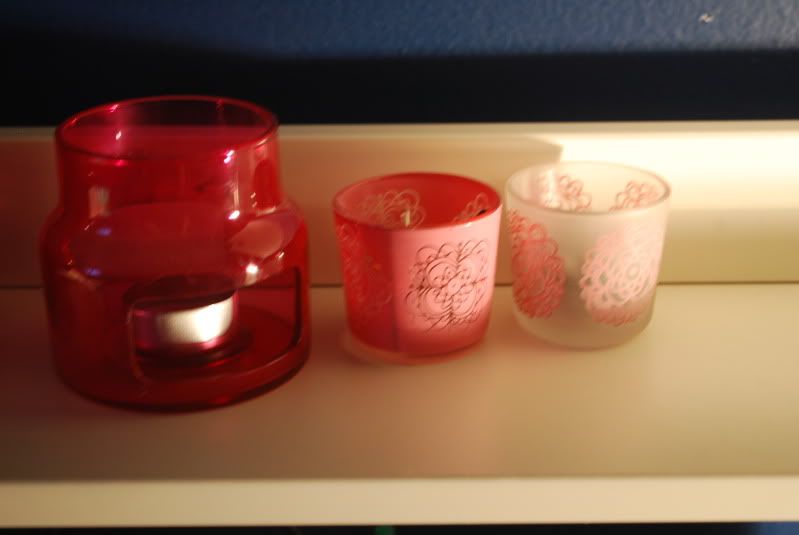 Boooooo look at it now! i hate snow!! its even worse now that its like 2 hours later.... wahhhh... Okay thats it. Oh and I want to paint my walls. Im sick of them, any suggestions? OH and here is one more pic of my wall stickers
YAH blue is boring. and blue+brown floor=ugly!! bye for now, thanks for looking :)