hello :) I've been hiding in the background for a bit, hovering and enjoying the posts everyone else has made. I'm in the middle of moving into a new apartment, and found myself in a bit of a situation.
my room
isn't all that big (11ftx10.5ft, not including a small "cubby" like section by the door into my room), and to make things worse, there's a pole.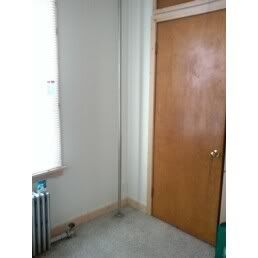 does anyone have any idea what I could do in this corner? from the pole to the wall by the door (that's the closet door) there's roughly 11inches of space. it's not too thick of a pole, as you can see, but it's annoying. and I have no idea what to do. any and all help would be appreciated! thank you so much!