I've posted pics of my window succulents before but now I have a few questions. This is The Brain: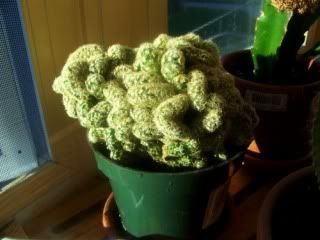 When I remember to water him (which is not very often, good thing he's a cactus) it is difficult since he's growing over the sides of his pot. But I'm reluctant to re-pot him because A)he'll not fit in his spot and B)I don't really want him to get much bigger. My question is-- will he die if I leave him in his little pot? I wouldn't want that to happen. Also, This is Grafty: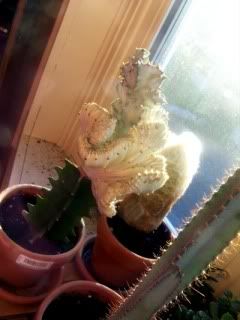 He is overpowering his host. I am afraid he's gonna overbalance and maybe knock down the cactus he's set upon. Will that happen? Is there anything I can do about it? Lastly there is Fingers: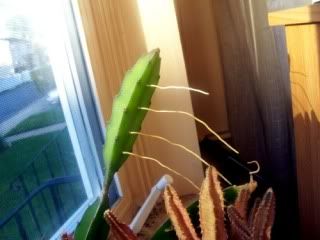 He too once had a graft but that shriveled up and died a long time ago. He recently grew these things. Are they a baby-making mechanism? Strange flowers? Will these things attack Redman (the cactus in the pot next to him)? I know next to nothing about cactus and bought all these fellows 3 years ago from Home Depot, so anything anybody has to tell me will be helpful.